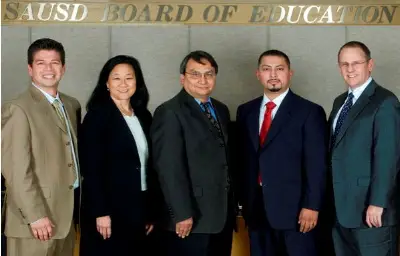 How depressing.  The OC Weekly posted a number of articles featuring the worst Orange County elementary, middle and high schools.  The Santa Ana Unified School District (SAUSD) dominated all three worst ten lists.  Now we know why SAUSD Trustee Audrey Noji sent her son to a high school in Irvine.
Noji was of course reelected last year, after her fellow Trustee, John Palacio (who maintains a second home in Arizona and is only here in CA on a part time basis) endorsed her.  Yes, he too was reelected.
Why do these Trustees keep getting elected?  For one thing they are partisan Democrats and the usual blue suspects all endorsed them.
I jumped into the SAUSD School Board late, raised no money, did not send any campaign mail, and lost by only 1,400 votes.  But I was the ONLY one to challenge these lame Trustees!  All the other blue and red political types in town demurred.  Unbelievable.  I may have lost but I forced Palacio and Noji to raise and spend a ton of money.
I can only hope we will see a few good challengers this year.  Trustees Rob Richardson, Roman Reyna and Jose Alfredo Hernandez are up for reelection.  Let's see how they explain the district's continued low grad rates, high dropout rates and awful test results.
Richardson also should explain why he gave himself an undeserved raise at the County of Orange, where he is the Assistant CEO.  He had that taken away recently and also lost his County paid car.
Richardson was supported by Assemblyman Jose Solorio last time he ran for office.  Solorio shared a campaign office with him.  And all the usual blue hacks supported him, even though he remains a Republican – and he personally made sure the Supervisors gutted Planned Parenthood's funding after they funded one of his opponents last time he ran for the School Board.
Will anyone challenge these people? Remember that NONE of them have kids in the district – except maybe Hernandez.  Richardson and Reyna have no kids and Palacio's kids all graduated already.  Shouldn't a few parents be on our School Board?
I should note that not all our schools suck.  Our fundamental schools are pretty good.  My son Joey had the highest GPA in the district last year, as he graduated from Godinez Fundamental High School.  He is now at UCLA on a partial scholarship.  And my son Jacob is in the GATE program at Muir Fundamental Elementary.  My son Jimmy is also now at Godinez and he is doing very well too.  My daughter Becky graduated from Santa Ana High and got a degree from the prestigious Fashion Institute of Design and Merchandising (FIDM) and she is now a fashion designer at the Gap's 1969 subsidiary.  I am proud of all my kids who all have excelled at SAUSD schools.
But a lot of kids are not doing well and too many have fallen through the gaps.  We need new leadership at the SAUSD!  Let's see if our new Superintendent, Thelma Meléndez de Santa Ana, can get things in order…