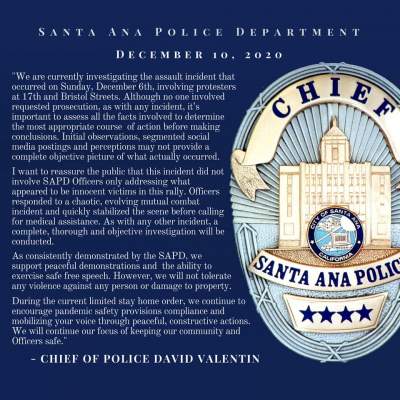 The SAPD Police Chief, David Valentin, as posted a response on Facebook to the aftermath of the Trump rally that turned into a melee, on Dec. 6, across from Santa Ana College.
Valentin wrote that his department is currently investigating what they are terming the "assault incident." He also said that no one in the incident requested prosecution.
Valentin noted that no SAPD police officers were involved in the fracas, noting that the officers responded to a chaotic, evolving mutual combat incident. He also said that a complete. thorough and objective investigation will be conducted.
Valentine also asserted that his department supports peaceful demonstrations but will not tolerate any violence against any person or any damage to any property.
It is evident in videos posted regarding the rally that the Trumpers showed up to insult our local residents and did so in such a horrible way that they incited a violent response. We don't appreciate these outsiders coming to our city to stir up trouble. They have a right to free speech but that should not include racist diatribes and insults that one might expect would not be well received.