A pair of brazen thieves stole a motor coach and trailer containing expensive and rare McLaren and
Porsche sports car parts, worth a combined total of nearly $1 million, a week ago, in broad daylight, at 2 p.m. on Sunday, April 2, at Global Motorsports Group in Santa Ana, according to the O.C. Register.
By the time the police found the stolen motor coach it, and the trailer, had already been stripped down. Still missing are the parts for the Porsche and a McLaren 570 GT4 race car, of which there are only about six in the country, according to the SAPD.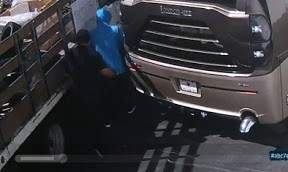 This unfortunate theft screwed the business owners' plans to race two cars in this weekend's Toyota Grand Prix of Long Beach, as the theft made it harder to compete without the right parts.
The good news, if there is any, is that the burglars will find it hard to sell the stolen parts as they are so rare. Police are working with the owners to inventory the stolen parts.
Anyone with information is asked to call Orange County Crime Stoppers, which accepts anonymous tips, at (855) TIP-OCCS.