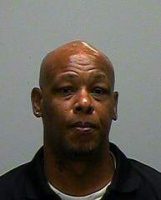 Santa Ana Police Department
Advisory: SAPD Requesting Public and Media Assistance In Locating Wanted Suspect For GTA And Felony Evading.

Wanted Suspect: Maurice Alexander Topps (42) Laguna Woods, Male Black, 6-0-medium build, bald, dark complexion.
Summary: On 9-15-2016 at approximately 4:00PM, an officer observed a vehicle driving erratically in the area of the 55 freeway and Macarthur Blvd. The Officer ran the license plate which returned to a stolen vehicle out of the City of Orange. The officer attempted to stop the vehicle and a pursuit ensued.
The pursuit continued throughout several Orange County cities and into Laguna Woods, where suspect drove into a multi-level parking garage at Saddleback hospital. A perimeter was set up around the hospital and a search was conducted however the suspect was not located. The stolen vehicle was returned to its owner.
Officers investigating the case located several items in the vehicle that helped them identify the driver of the stolen vehicle as Maurice Alexander Topps (42) Male Black, 6-0-medium build, bald, dark complexion. Topps was last known to reside in the City of Laguna Woods. The suspect is wanted for Vehicle Theft, Possession of Stolen Property and Felony Evading.
Topps knows he is wanted by the police and is currently on probation – Post Release Community Supervision. Anyone with information on the whereabouts of suspect Topps is asked to contact Orange County Crime Stoppers at 1-855-TIP-OCCS.