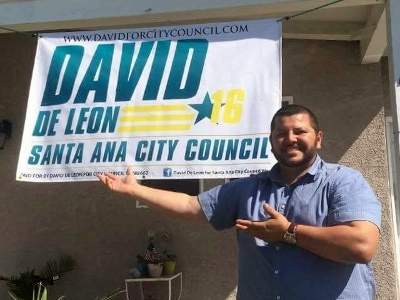 David De Leon is one of many candidates running for Santa Ana's Ward 3 this year. That seat is going to be vacated by the incumbent, Councilwoman Angie Amezcua, in November. You may recall that she was accidentally elected four years ago when she did not campaign and spent zero on her campaign but won in a crowded field of male candidates. Her recognizable last name and ballot title (teacher) and her gender no doubt did the trick.
Amezcua has been a fairly invisible Councilwoman. She is a kindergarten teacher and has her own kids to raise as well. I am sure she will be much happier not serving in a public office. She recently endorsed De Leon, stating: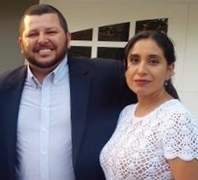 "David is a lifelong resident of Santa Ana. David's love for his community is evident in his dedication and involvement with many community organizations. He is currently the President of Kiwanis Club Santa Ana and the president of the Santa Ana Council PTA. David also serves on the Board of Directors of the Heritage Museum of Orange County and on the Board of Directors of the Santa Ana Pony Baseball. As a Councilmember, I know David will continue to be an advocate for our youth and our families. Therefore, it is my pleasure to endorse David De Leon for City Council Ward #3."
De Leon was formerly a Notary Public. He now works in Code Enforcement for the City of Newport Beach, according to his Linkedin Page.
De Leon has a certificate in Administrative Justice from Victor Valley College and he has completed coursework on Code Enforcement at Santiago Canyon College.
De Leon has the support of Santa Ana Councilman Roman Reyna, who recently voted against hiring more cops – even though the SAPD is currently drastically understaffed. However De Leon appears to disagree with Reyna as De Leon states on his website that "Law Enforcement needs to be properly staffed and have the resources they need to serve our community."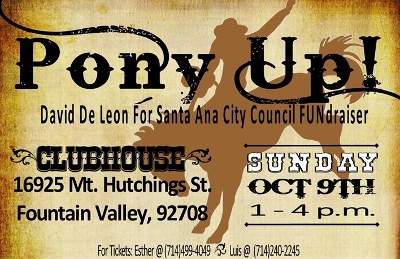 The Olin Consulting Firm is hosting a Quartermania campaign fundraiser for De Leon on Sunday, Oct. 9, 2016, from 1 to 4 p.m., at the Clubhouse, located at 16925 Mt. Hutchings St., in Fountain Valley.
If you are going to this fundraiser you are advised to wear your best western apparel. They also suggest a
$25 donation for each ticket. You can buy your tickent online here. A Quartermania is apparently a cross between bingo, loteria, a shopping boutique and an auction all rolled into one. Your ticket will include food, refreshments, opportunity drawings, early holiday shopping opportunity and the fun-filled Quartermania game. You bring your quarters and have an opportunity to win $100s of dollars of prizes.
Other candidates for Ward 3 include: