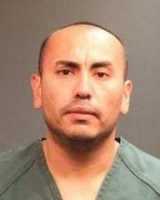 Santa Ana Police Department
Advisory: UPDATE – Burglary Suspect In Custody
– UPDATE –
On 9-21-2016 at approximately 7:45 p.m., officers were finishing up a call for service in the area of 1400 North Cabrillo, when they recognized a vehicle reportedly involved in a series of commercial burglaries. The officers conducted a traffic stop on the vehicle.
When the driver exited the vehicle the officers recognized him as Alberto Sierra the wanted suspect involved in the burglaries to the Mexican Consulate as well as several other recent commercial burglaries around the city. Sierra was taken into custody without incident.
Sierra was transported to the Police Department where he was interviewed by Detectives and booked into the SAPD Jail on five counts of Commercial Burglary. Detectives continue to investigate additional burglaries they believe the suspect committed.
– ORIGINAL MESSAGE –
SAPD Detectives Requesting Media And Public's Assistance In Locating Wanted Burglary Suspect
Wanted: Albert Sierra (32) Transient, Male Hispanic, 5-6/180/Black Hair/Brown Eyes. Santa Ana Police Detectives are asking for assistance in locating Albert Sierra (32) who is suspected of twice burglarizing the Mexican Consulate at 2100 East 4th Street. Sierra smashed a glass door and entered the Mexican Consulate building during the night hours on September 17th, 2016. The released video surveillance shows Sierra, previously breaking into the Mexican Consulate on July 10th 2016. Sierra stole office equipment, money from the Consulate and several Red Cross donation containers placed inside the location. Sierra is also wanted for committing at least three additional burglaries between July-August 2016 at businesses in Santa Ana where he stole thousands of dollars in computer equipment. Anyone with information is asked to call Detective Duane Greaver at 714-245-8362 or Orange County Crime Stoppers at 1-855-TIP-OCCS. Surveillance Video: https://www.youtube.com/watch? v=roq-uKa14_A
For full details, view this message on the web.