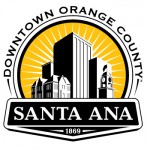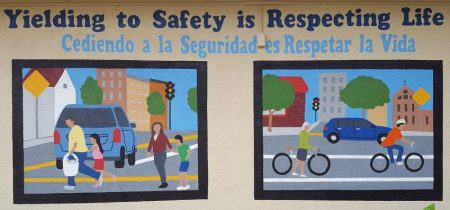 City of Santa Ana, Downtown Orange County
Community: Pedestrian and Bicyclist Safety Mural Dedication
SANTA ANA, CA – The City of Santa Ana's Parks, Recreation and Community Services Agency is hosting a dedication ceremony for its Pedestrian and Bicyclist Safety mural.  In collaboration with Operation Clean Slate, volunteers from the Southwest Senior Center enthusiastically worked on the creation of this mural for the benefit of our community.  Focused on promoting the importance of traffic safety, the mural highlights the role pedestrians and bicyclists play in ensuring everyone's safety on our city streets.
The vibrant and enriching mural's theme of "Yielding to Safety is Respecting Life" serves as a constant reminder for all to make traffic safety a priority. In our city with a high percentage of pedestrian and bicyclist traffic related fatalities, sharing the road, preventing accidents and saving lives is everyone's responsibility. 
The mural dedication will take place at 11:30am on Monday, September 26, 2016 at Corbin Community Center located at 2215 W. McFadden, Santa Ana, 92704. Light refreshments will be served and a time-lapse video on the project will be shown immediately following the dedication ceremony.
This project was made possible in part to the efforts of Mayor Pro Tem Vince Sarmiento and Council Member Michele Martinez and through a generous sponsorship from State Farm Insurance.  For more information on this project or to confirm your attendance to the ceremony, please contact Community Services Supervisor Juan L. Lara at 714-571-4259.