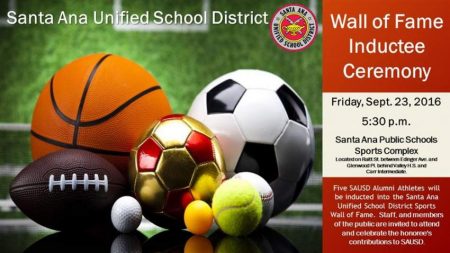 Wall of Fame Inductee Ceremony
Friday, September 23, 2016
The Santa Ana Unified School District will celebrate five individuals as they are inducted into the SAUSD Wall of Fame, located at the Santa Ana Public Schools Sports Complex. All honorees were selected because of the significant contributions that they made in the area of sports in the District.
WHEN: Friday, September 23, 2016 at 5:30 p.m. After the ceremony, a football game between Valley High School and Santa Ana High School will take place at 7:00 p.m. During half-time, the inductees into the Wall of Fame will be recognized a second time.
WHERE: Santa Ana Public Schools Sports Complex, on Raitt St. between Edinger Ave. and Glenwood Pl., (behind Valley High and Carr Intermediate Schools)
Wall of Fame Inductees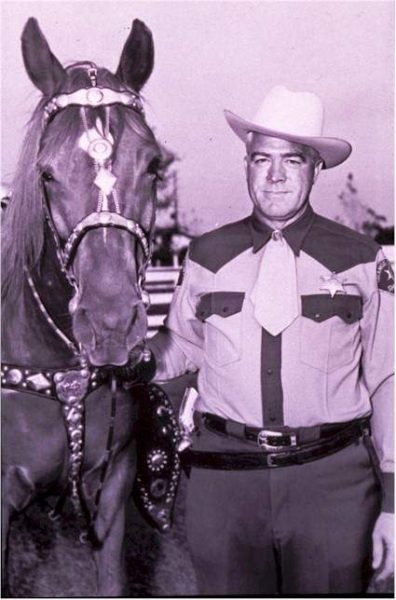 JIM MUSICK Jim Musick played football at Santa Ana HS, where he gained "a measure of local fame" playing football there until his graduation in 1928. He then went on to star as a fullback at USC. It was at USC he earned the nickname "Sweet" Musick as he helped lead the Trojans to two Rose Bowl victories and a national championship in 1931. As of 1992. Musick ranked 17th on the Trojans all-time career rushing list with 393 carries for 1,605 yards. After graduating from USC in 1932, Musick signed with the Boston Braves – to be named the Boston Redskins in 1933 (now the Washington Redskins) – where he played for four seasons. Musick returned to the Redskins in 1935 only to suffer what ended up being a career-ending knee injury three weeks into the season.In 1986 he was inducted into the Orange County Sports Hall of Fame. In 1947 Musick won election to the first of seven consecutive terms as Orange County Sheriff, remaining at the post until retirement in 1975. He passed away December 15, 1992 while still living in Santa Ana.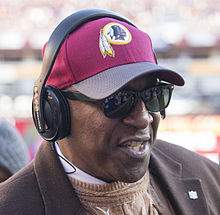 RICK "DOC" WALKER Rick "Doc" Walker graduated from Santa Ana Valley High School in 1973 where he was a standout football player. He went to UCLA and in 1976 became a Rose Bowl Champion when the Bruins defeated the Ohio State Buckeyes. Rick received Lineman of the Year honors and was named an Associated Press (AP) All American. In 1977, Rick was a fourth round draft choice for the Bengals. He played three years in the NFL for the Cincinnati Bengals and his final six years for the Washington Redskins. In 1982, as a starting tight end he became a World Champion with the Redskins in Super Bowl XVII defeating the Miami Dolphins 27-17. He distinguished himself in the NFL with his blocks and timely catches on the football field and his leadership in the locker room. Following his professional football career, Doc transitioned to the business and broadcasting world. His current broadcasting activities include sideline reporter for the Washington Redskins, hosting his own TV show "Doc Walker's ProView on MASN, and co-hosting "Inside the Locker Room", a daily radio show on ESPN 980 (Washington D.C.).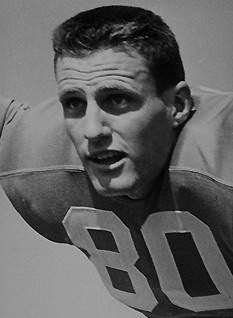 DONN MOOMAW After graduating from Santa Ana HS in 1948, Donn Moomaw went to UCLA where he played linebacker from 1950 – 1952. During that time, he was named: Two time All-American (in 1950 and consensus in 1952), first in UCLA history, named MVP in 1950 and 1952, named co-captain in 1952, named College Football's Lineman of the Year in 1952, and named first-round draft pick for the Los Angeles Rams – 1953. He chose to play professionally in the Canadian Football League (CFL) where he was selected as a CFL All-Pro in 1954. He received his Master of Divinity Degree in 1957 from Princeton Theological Seminary and was ordained a Presbyterian USA pastor at First Presbyterian Church of Hollywood, California, where he served for seven years. In 1964 he became Senior Pastor of the Bel Air Presbyterian Church of Los Angeles and went on to serve in that congregation until 1993.
JOSE "MANNY" PENAFLOR Manny was a teacher and coach in football, wrestling, soccer, and track at Santa Ana High School from 1965-2005. As a teacher and coach, Manny was an inspiration to thousands of student-athletes spanning 40 years. To quote Manny's former coach, Tom Baldwin, in a July 6, 2010 news article, "You can write a book about him. To me he is an amazing man. He didn't speak English until the fourth grade and he goes on to graduate in the top of his class and goes on to UC Berkeley. All these barriers he overcame." Throughout his coaching career, Manny inspired many student-athletes to similarly overcome obstacles and achieve success. Manny was a standout football player and track athlete. In the 1958 football season he was the co-captain of the Sunset League Champion Santa Ana HS football team. In the 1958 football season Manny received the following honors: First Team All Sunset League, First Team All County, OC Register Lineman of the Year. He played in the very first OC All Star Game in the summer of 1959. Manny was voted by the SAHS senior class to receive the Coterion Award as the top student in his class. Manny was selected by the coaches as the 1959 SAHS Athlete of the Year. He received a four year scholarship to UC Berkeley where he was a four year letterman. Manny also lettered in track at Santa Ana HS, taking 2nd place in the Sunset League in the shot put.
KIMBERLY LAW Graduated from Valley HS in 1978, during which time the Girls Track Team won four consecutive Century League Championships. Her prowess in track was first recognized when she attended Smedley, now Carr Intermediate School where she was named the Most Outstanding Female Track Athlete.
While at Valley she competed on the boys cross country team and was consistently one of the top five scorers on the team. Her passion and talents really stood out as a track athlete and more specifically, a sprinter.
In 1978, her senior year, she broke school records in the 100, 200, 400 relay, 800 relay and the mile relay. Also during that year, her 440 relay team set the meet records at the Tustin Kiwanis Invitational and Redondo Beach Invitational, with Valley's Girls Track Team winning the championship in Redondo. She was named First Team All League each of her four years in high school. Kimberly was also the first female Valley athlete to go to the State meet and win an individual event. Outside of track, Kimberly was an honor student, a 4 year CSF honoree, was involved in student government and other clubs on campus. Her senior year she was named the May Student of the Month. She was also named one of the districts top 78 students. Beyond competing for Valley, in 1978 she also represented the United States in track meets with other countries, and competed at the Junior Nationals and Junior Olympics. From Valley she went to UCLA on a track & field scholarship. As a Bruin, Kimberly was named All Conference in 1979 and 1980 and was the 1980 Conference Champion in the 400. While at UCLA she earned two Bachelors and a Masters Degree. She then earned a second Masters Degree from the University of Northern Arizona graduating Suma Cum Laude. She has been working as a Senior Juvenile Probation Officer in Arizona for the past 30 years and was recently recognized for her 30 years of service by the Superior Court House of Phoenix.