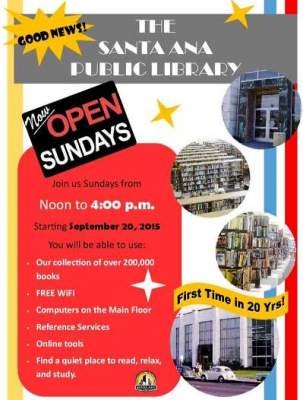 When I served on the Santa Ana Public Library Board, over 15 years ago, one of my goals was to find a way to open the Santa Ana Public Library on Sundays.  There are a lot of young people in Santa Ana who don't have a place to do their homework and who need access to computers and books to complete their school assignments.
I am glad to report that the Library is finally going to be open on Sundays.  Kudos to Santa Ana Parks and Recreation Agency Director Gerardo Mouet for finding a way to fund this.  The Santa Ana Library has been closed on Sundays for over 20 years, which has been a real disservice to our young people.
The Library will be open on Sundays starting on Sep. 20, 2015, from noon to 4 p.m.  Library services include:
Free Wi-Fi
Over 200,000 books
Computers on the main floor
Reference services
Quiet places to read, relax and study
Kids in Santa Ana went back to school this week, for the most part.  If you son or daughter needs access to a library on Sunday before Sep. 20 remember that you can use the Orange County Libraries in Irvine, Tustin, Costa Mesa and Fountain Valley.  Click here for more info.
Santa Ana's Main Library is located at 26 Civic Center Plaza, in DTSA.  There is a smaller branch at 122 N. Newhope St. as well.  Click here for more info.