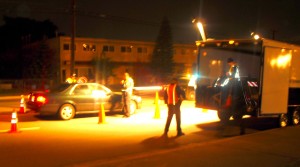 Santa Ana Mayor Pro Tem Claudia Alvarez says that "the City Council has no authority to tell the Police Department what the policy should be," according to the O.C. Register.  That simply is not true.
Oakland is now abstaining from impounding unlicensed drivers' cars – and from the hundreds of thousands of dollars the controversial seizures generate a year, according to California Watch.  We wrote about that previously, at this link.
An investigation by California Watch and the Investigative Reporting Program at UC Berkeley's Graduate School of Journalism last year found that sobriety checkpoints across the state were increasingly turning into profitable operations for local police and tow companies because of these vehicle impounds. In 2009, vehicle seizures generated an estimated $40 million in towing fees and police fines from checkpoint seizures.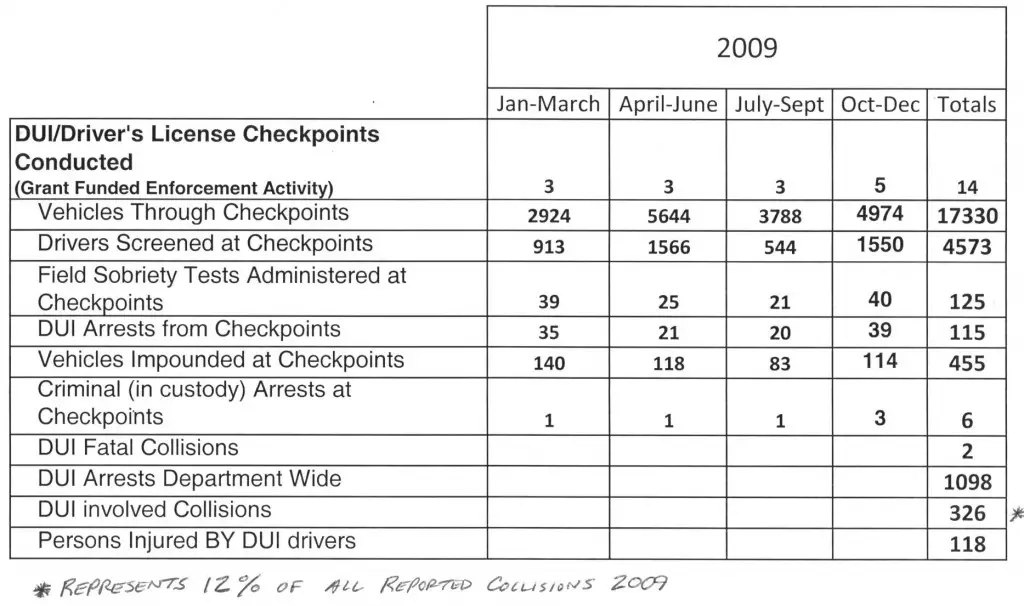 So have the Santa Ana DUI checkpoints accomplished anything?
You can see the results of the 2009 SAPD DUI checkpoints in the graphic above. If I read it correctly, there have been 115 DUI arrests, out of over 17,000 vehicles that have passed through the checkpoints. Of those vehicles, 4,573 were actually screened, on a random basis. Only 125 field sobriety tests have been conducted.
In that same time period, 455 vehicles were impounded. Now you figure that a third of those were the DUI arrests, although in some cases the drivers were allowed to leave their cars at the checkpoint for their family to pick up.  But that still left about 300 folks without their cars.  They had to pay a lot of money to get their cars back!
Click here to read more about the SAPD DUI checkpoints, as we reported back in March of last year.
The reality is that Santa Ana could easily do what Oakland did – and Alvarez is just blowing smoke.  The real reason why the Santa Ana City Council won't stop the SAPD DUI checkpoints, which as we illustrated above are utterly useless, is that the Santa Ana cops make a ton of money on overtime, when they are assigned to man the checkpoints.  The money for these checkpoints comes from state grants.  The Santa Ana City Council could stop the DUI checkpoints immediately by refusing to accept the state's grant money.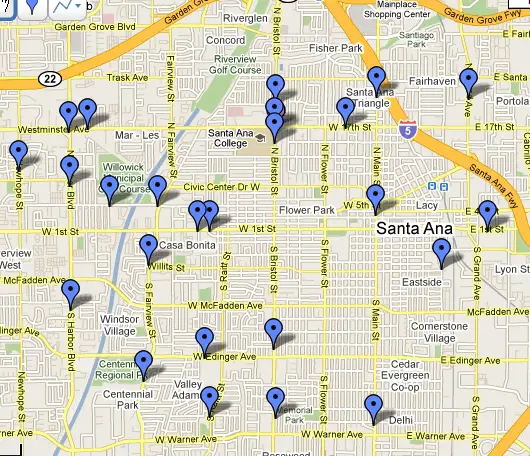 Map of the SAPD Dui Checkpoints – note that they skip most of north and south Santa Ana
But if you think that anyone on the Santa Ana City Council will do anything that might piss off the SAPD, well guess again.  They won't.  The police union has worked to get each of them either elected or reelected.
When I first investigated the SAPD DUI checkpoints my reward was an SAPD unit parked on my street for almost a week, at 5 pm, waiting for me to come home.  I am guessing that they were hoping I would do a "California stop."  That didn't happen so they finally gave up and left.
It is high time to stop the SAPD DUI checkpoints.  They do almost nothing to stop drunk drivers.  They are simply a ruse to separate otherwise law-abiding immigrants from their cars.  If Oakland's City Council could figure this out, why can't ours?