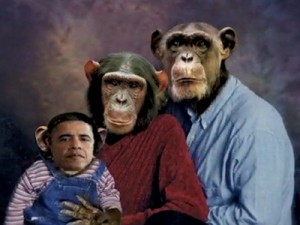 A Fullerton Republican emailed this picture to her friends but was exposed by the OC Weekly
Reports Shows Hate Crime Targeting African-Americans are One Third of all reported in 2010
OC Human Relations Commission Releases the 2010 Hate Crime Report
Thursday, August 18, 10:00 am
OC Human Relations, Conf. Rm A/B, 1300 S. Grand Building B, Santa Ana, CA 92705
In September of 2010 an African-American woman and a white man were walking together in their apartment complex when they heard a white male on an upstairs balcony yell, "Interracial relationships are wrong!" and call the woman a "nigger."  The perpetrator then walked downstairs and confronted the couple, punched the man in the face knocking him down and then kicked his back causing concussions. The perpetrator then fled the scene.
Situations like this are known as hate crimes.  Since 1991, OC Human Relations Commission has worked diligently with law enforcement, community leaders and community organizations to prevent them, create awareness of their existence, assist hate crime victims and keep track of these heinous crimes.  The Commission will review the report data in this session.
The press conference will include a group of diverse community leaders from our Hate Crime Network who will share their insights, experiences and analysis of the report.  Commissioner Ken Inouye will facilitate the panel.
Panelists
Ed Thomas, Christ Our Redeemer AME Church, Irvine CA
Dr. Kevin O'Grady, Regional Director, Anti-Defamation League, Orange County/Long Beach Region
Ameena Qazi, Deputy Executive Director, Council on American Islamic Relations 
Ginger Hahn, Executive Director, The Center OC
The report will be posted to OC Human Relations website as are previous reports.
About OC Human Relations
Since 1971, OC Human Relations has worked to build bridges of understanding to promote a vision of our community where all people are valued and included and our diversity is realized as a source of strength. For more information, visitwww.ochumanrelations.org. Connect with us on Facebook at www.facebook.com/ochumanrelations or follow us on Twitter atwww.twitter.com/WeAreOneOC.
# # #
Rusty Kennedy, Executive Director
OC Human Relations
1300 S. Grand, Bldg B
Santa Ana, CA 92705
fax 714-567-7474
Follow us on Facebook and Twitter !