Garden Grove, CA – Patrick "Pat" Catlin, the President of the Garden Grove Strawberry Festival Association, announced the theme of the 62nd Annual Garden Grove Strawberry Festival, to be held live during Memorial Day Weekend, May 27 – 30, 2022 in Garden Grove, CA will be "Celebrating Essential Workers" who have helped us get through this pandemic. Catlin served his first term as President of GGSFA from 2020-2021.
Pat Catlin said, "We are looking forward to presenting our Festival live again this year in 2022. The Festival was on hiatus both in 2020 and 2021 during the worldwide health crisis with the COVID 19 pandemic, which has never happened since the Festival began in 1958. Being mindful of the general public's safety in attending our event this year, we will be installing cleansing stations throughout the Festival Grounds."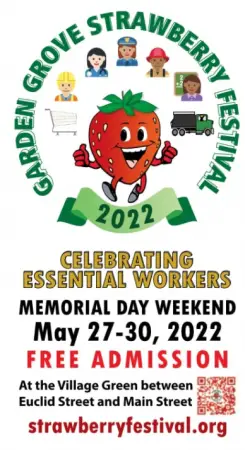 Started in 1958, The Garden Grove Chamber of Commerce put on the first Garden Grove Strawberry Festival as a way to bring together the east and west sides of Garden Grove. Resident Tom Hoxie, a public relations professional, suggested a festival to celebrate the area's then prolific strawberry fields.
Events at the festival include:
A Tiny Tots King & Queen Contest
Strawberry Stomp 5K Run
A Parade
Strawberry Idol Karaoke Contest
Miss Garden Grove and Friends
Redhead Roundup Contest
For Festival Sponsorship Opportunities please visit online at www.strawberryfestival.org and contact Steve Moyer Public Relations at 818.784.7027 or E-mail moyerpr@earthlink.net On Saturday, April 2, 2022, the Garden Grove Strawberry Festival Association and Strawberry Mascot will be participating in The City of Garden Grove's RE:IMAGINE GARDEN GROVE, OPEN STREETS, from 2:00 – 6:00 p.m. During the event Garden Grove streets turn car-free to walk, bike, and ride. Bring your family and friends and enjoy a day of fun pop-up activities, entertainment, food and more!
Additional information and surprises about the long awaited 62nd Annual Garden Grove Strawberry Festival, including the 2022 Celebrity Grand Marshal and 2022 Community Grand Marshal, who will be leading the Festival's Parade on Saturday, May 28, 2022 at 10 a.m. through the streets of Garden Grove, CA, will soon be announced!
The Garden Grove Strawberry Festival is an annual 501(c)(3) non-profit FREE event produced by the Garden Grove Strawberry Festival Association, a dedicated volunteer group, which has raised more than $7 million for various charities since its inception in 1958. The live Festival wasn't held in 2020 and 2021, due to the pandemic. The Festival's mission and goal is to give back to the community serving Garden Grove citizens by donating to non-profit organizations which provide services for children, seniors, youth, the community, and which support the arts. To learn more and for updates on this year's Festival, please visit, www.strawberryfestival.org.