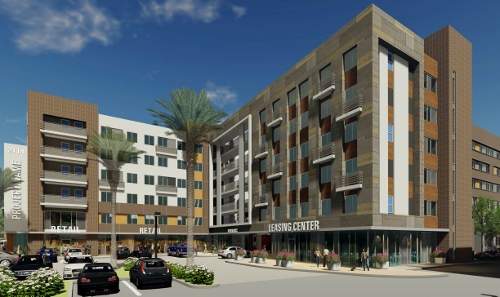 First Point I & II Apartments are new, affordable, multifamily apartment communities currently under construction at 2114 E. First St. in Santa Ana. First Point I & II apartments includes 522 one-, two-, three- and four-bedroom apartment homes.
 
Preference is given to applicants who are residents of Santa Ana and/or worked at least 32 hours per week for at least the last 6 months in Santa Ana.
 
First Point I & II Apartments is now accepting online interest list applications. Apply at https://www.conamwaitlist.com/first-pointe.
For more information, call (714) 248-7444.

Rent
1 Bedroom/1 Bath $1,569
2 Bedrooms/1 Bath $1,453 – $1,756
3 Bedrooms/2 Bath $1,672 – $1,941
4 Bedrooms/2 Bath $1,856 – $2,084
Amenities
Elevators, ADA Access, Resident Computer Center, Parking Garage, Courtyard Terrace, Multiple On-Site Laundry Facilities, Fully Equipped Kitchens, Central Heat and Air Conditioning, Wood Style Flooring
Please note that the leasing team is following all CDC guidelines while conducting applicant interviews to ensure healthy business operations and work environments.
Contact:
Gus Silva, ConAm
Management Phone:
(714) 248-7444
Email: gsilva@conam.com
Apartamentos Asequibles de First Point Están Aceptando Solicitudes