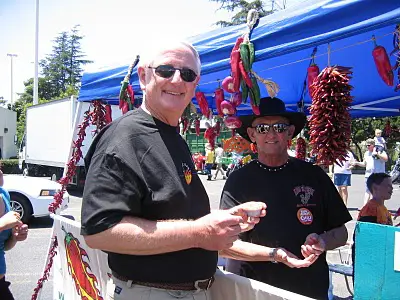 The same Santa Ana City Council Members who just fired our City Manager, Paul Walters, heaped praise on his predecessor, Dave Ream, when he finally retired, as noted in the minutes of the May 16, 2011 City Council meeting.
Council Member Michele Martinez, who went ballistic, according to insider reports, when Walters was offered the chance to stay on as our Chief of Police, had this to say about Ream, who wrecked our city budget:
"Much appreciated David Ream's service to the City; have personally known him for many years and has been a great mentor; improvements throughout the City…due to his vision and leadership."
Council Member Vincent Sarmiento joined in the Ream parade too, with this comment:
"Valued David Ream's historical perspective of the City; accomplishments, integrity, and institutional knowledge of the City.
And Council Member David Benavides also heaped on the praise with this comment:
"Noted his gratitude towards retiring City Manager Dave Ream; thousands of lives touched through his efforts; thanked his family for their support; and wished him well in his retirement.
Ironically this bunch had turned on Ream by the time they were quoted again, in December of 2011, by the Voice of OC:
After months of dealing with the deficit and talking of a possible bankruptcy, some members of the City Council are now willing to say that Ream withheld key information on the health of the budget. 

"I think there was some truth in that information that was necessary, wasn't completely disclosed, and so that was a problem," said Councilman Vincent Sarmiento.

Council members said that when they had pointed questions about the sustainability of city spending in recent years, Ream simply told them the city would be OK. "We were told we could fund additional [labor agreement] promises when in fact we could not," said Councilwoman Michele Martinez.
Some council members say that had Ream given them an accurate financial picture, they would have tackled the problem as early as two years ago. "Had we had more and clearer information at the time, we would know to begin to address some changes sooner rather than later," said Councilman David Benavides.
Martinez, according to Councilman Sal Tinajero, was the most vocal council member when it came to questions about whether the city could afford the union contracts. But despite her concerns, Martinez voted with her colleagues — without discussion — to approve the contracts, official meeting minutes show.
You see?  These Council Members DID NOT DO THEIR JOBS.   They were lazy and went along with Ream and when he retired they heaped the praise on him…only to turn on him when they finally realized that their laziness and inattention had screwed our city.
And the man who cleaned up THEIR mess was none other than Paul Walters – who this same bunch of clowns has now fired.
Now ponder just who the heck is going to want to work for this Council?