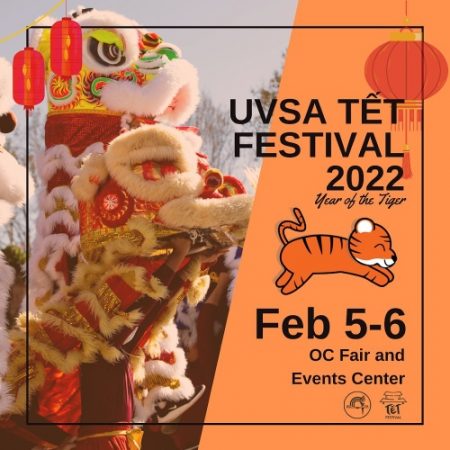 The Tết Festival (Hội Tết Sinh Viên) of Southern California is recognized as the largest Vietnamese Lunar New Year Festival. This years Festival is set for Feb. 5, 10 a.m.-10 p.m. and Sunday, Feb. 6, 10 a.m.-9 p.m. at the OC Fairgrounds in Lot 1.
This year, the UVSA Tết Festival theme is "Spring of Reunion." UVSA is beyond thrilled to welcome back over 60,000 guests to celebrate the Year of the Tiger. UVSA Tết Festival is proud to be a bridge that brings people closer through vibrant activities that highlight our Vietnamese heritage, such as: Vietnamese cultural village, live entertainment, the Miss Vietnam of Southern California pageant, festive games and rides, a variety of ethnically diverse foods, and a dazzling firecracker show celebrating the new year.
How much: $8 general admission tickets. Ticket booths are located adjacent to the main entrance and accept cash and card. Promotional codes, online discounts, printed flyers, newspaper ads, and so forth are not valid on tickets purchased at the main entrance. All sales are final and there are no refunds. Parking is $10.
FREE Ceremonial Special – Free entrance for visitors who wear traditional outfits (no religious outfits), military, and scout uniforms (no costumes). ONLY VALID on Saturday from 10am – 12pm.
FREE Infants 2 years and younger. Must be accompanied by paying adult. Infant may be in strollers; however, the event does not provide stroller storage or daycare services.
Schedule:
Saturday, February 5

12:00pm Raising of the Bamboo
1:00pm Opening Ceremony
5:00pm Miss Vietnam of Southern California Pageant

Sunday, February 6

11:00am Community Performance
1:00pm Spring Wedding
2:30pm Modern Talent Competition
5:00pm Grand Concert (Đại Nhạc Hội)