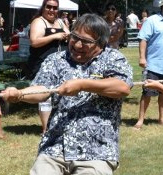 What a night.  To sum it up, Mayor Miguel Pulido won easily.  Over in the RSCCD Area 5 race his longtime ally, Claudia Alvarez, also won.
What about Team Benavides?  Well, David Benavides got beat, badly.  So did Eric Alderete, in Ward 3, by an unknown candidate, Angelica Amezcua, who barely campaigned.  And while Vince Sarmiento won in Ward 1, he did so barely over another unknown candidate, Estela Amezcua.  The one guy in the Benavides cabal who won with a big margin was Roman Reyna, in Ward 5.
What happened?  It sure looks like Team Benavides was led poorly by their consultant, John Palacio.  Epic fail for that guy.
It won't be long before Mayor Pulido forms a new Council majority and Benavides, Reyna and Michele Martinez get seated at the little kids' table while the adults run the City Council.
Team Benavides allies Myriam Tinajero and Valerie Amezcua also lost over in the SAUSD School Board race where Republicans Rob Richardson and Ceci Iglesias were the top vote getters.  Another fail for Palacio!
This was a divisive campaign and I remain disgusted that Benavides' allies and the Voice of OC went after Pulido's kids.  What horrible people!  I am told that Martinez' campaign treasurer worked with the PAC that funded those attacks and that she was the one coordinating it.  She will be toast in two years as will Benavides when they both come up again for re-election.