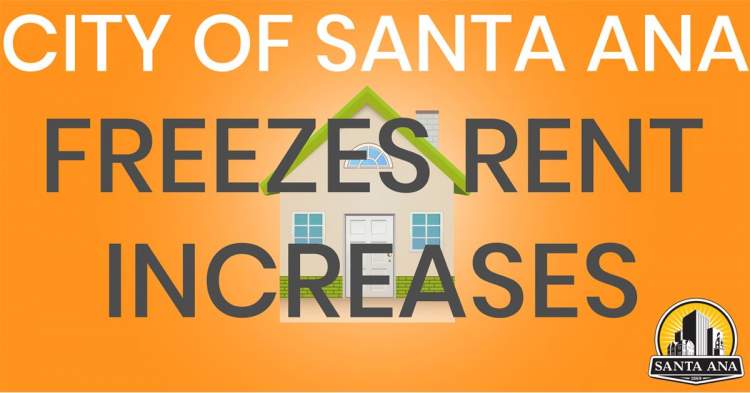 Santa Ana City Manager Kristine Ridge has signed an executive order temporarily stopping residential rent increases due to the COVID-19 pandemic.
Effective April 7, residential landlords in Santa Ana are prohibited from increasing rent for all tenants at least through May 31 while the Governor's Executive Order N-28-20 remains in place. The rent freeze could be extended.
Additionally, the City Manager's Executive Order extends certain land use and planning approvals, permits for temporary banners and special event displays, and approved plan reviews and construction permits, among other measures.
This order follows the City's creation of a moratorium on residential and commercial evictions from March 19 through May 31. All of these actions were authorized by the City Council's unanimous declaration of a local emergency on March 17.
To read the Executive Order on rent increases and to get the full details of the approval and permit extensions, please visit www.santa-ana.org/covid19.
Any resident who believes their rent is being increased or who has been given notice of eviction in violation of the City's executive orders is encouraged to email evictionmoratorium@santa-ana.org.
For COVID-19 updates and resources from the City of Santa Ana, go to www.santa-ana.org/covid19; follow @CityofSantaAna on Facebook, Instagram and Twitter; sign up to receive email and text alerts at Nixle.com; download the mySantaAna app; and join Nextdoor.com to connect with neighbors and get City news.
La Ciudad de Santa Ana Congela Aumentos de Alquiler
Kristine Ridge, Gerente Municipal de Santa Ana, ha firmado una orden ejecutiva para detener temporalmente los aumentos de alquiler residencial debido a la pandemia del COVID-19.
A partir del 7 de abril, los propietarios residenciales en Santa Ana tienen prohibido aumentar el alquiler de todos los inquilinos cuando menos hasta el 31 de mayo, mientras está en vigor la Orden Ejecutiva del Gobernador N-28-20. El congelamiento del alquiler podría extenderse.
Además, la Orden Ejecutiva de la Gerente Municipal extiende ciertas aprobaciones de uso de la tierra y planificación, permisos para exhibición de pancartas y eventos especiales, y revisiones de planos aprobados y permisos de construcción, entre otras medidas.
Esta orden sigue la creación de la Ciudad de una moratoria en desalojos residenciales y comerciales del 19 de marzo al 31 de mayo. Todas estas medidas fueron autorizadas por la declaración unánime de una emergencia local por parte del Concejo Municipal el 17 de marzo.
Para leer la Orden Ejecutiva sobre aumentos de alquiler y obtener los detalles completos de las extensiones de aprobación y permisos, por favor visite www.santa-ana.org/covid19.
Cualquier residente que crea que le están aumentando el alquiler o que haya recibido un aviso de desalojo, en infracción de las órdenes ejecutivas de la Ciudad, debe enviar un correo electrónico a evictionmoratorium@santa-ana.org.
Para actualizaciones y recursos de COVID-19 de la Ciudad de Santa Ana, visite www.santa-ana.org/covid19; siga @CityofSantaAna en Facebook, Instagram y Twitter; inscríbase en Nixle.com para recibir alertas por texto y correo electrónico; baja el app mySantaAna; y únase a Nextdoor.com para conectar con vecinos y recibir noticias de la Ciudad.
Thành phố Santa Ana đóng băng giá thuê nhà
Quản đốc Thành phố Santa Ana, bà Kristine Ridge đã ký một sắc lệnh tạm thời ngừng việc tăng tiền thuê nhà do đại dịch COVID-19.
Có hiệu lực từ ngày 17 tháng 4, các chủ cho thuê nhà ở Santa Ana không được phép tăng tiền thuê cho tất cả những người thuê nhà, ít nhất là đến ngày 31 tháng 5 khi Sắc Lệnh N-28-20 của Thống Đốc vẫn còn hiệu lực. Việc đóng băng tiền thuê nhà có thể sẽ được gia hạn.
Ngoài ra, Sắc Lệnh của Quản đốc Thành phố còn kéo dài một số phê chuẩn về quy hoạch và sử dụng đất, giấy phép tạm thời cho các biểu ngữ và những hiển thị cho các sự kiện đặc biệt, bản xem xét các kế hoạch được thông qua và giấy phép xây dựng, cùng một số biện pháp khác.
Sắc lệnh của Thành phố nhằm cấm các hành động trục xuất người thuê nhà từ ngày 19 tháng 3 đến ngày 31 tháng 5. Tất cả những hành động này đã được Hội đồng thành phố nhất trí và thông qua tuyên cáo về tình trạng khẩn cấp tại địa phương vào ngày 17 tháng 3.
Để đọc Sắc Lệnh về việc tăng tiền thuê nhà và để biết thêm chi tiết về việc gia hạn giấy phép và sự phê chuẩn, vui lòng truy cập vào www.santa-ana.org/covid19.
Bất kỳ người dân nào chắc chắn rằng mình bị tăng tiền thuê nhà hoặc nhận được thông bào về việc trục xuất, vi phạm các sắc lệnh của thành phố, xin hãy gửi email tới evictionmoratorium@santa-ana.org.
###
Để cập nhật các thông tin có liên quan đến đại dịch COVID-19 từ các thành phố Santa Ana, truy cập www.santa-ana.org/covid19; theo dõi @CityofSantaAna trên Facebook, Instagram và Twitter; đăng ký để nhận email và thông báo tại Nixle.com; Tải ứng dụng mySantaAna; và tham gia Nextdoor.com để kết nối với hàng xóm và nhận tin tức từ thành phố.