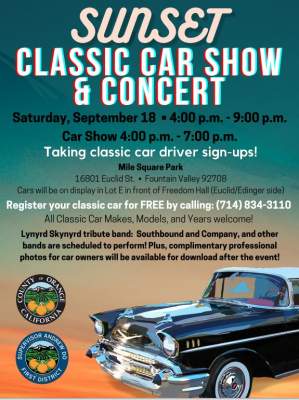 Bring your lawn chairs and your family to celebrate the end of summer at the first-ever Sunset Classic Car Show and Concert at Mile Square Park, on Saturday, September 18. The car show will run from 4 pm. to 9 p.m. and the concert from 4:00 p.m. – 9:30 p.m.
"The Sunset Classic Car Show and Concert is a wonderful way for the community to enjoy the end of summer in an outdoor space," says Supervisor Andrew Do, Chairman of the Orange County Board of Supervisors.
The Classic Car car show will run from 4 p.m. to 7 p.m. The cars will be on display in Lot E, in front of Freedom Hall on the Euclid and Edinger side of the park. Register your Classic Car by calling 714-834-3110. Complimentary professional photos for the car owners will be available for download after the event.
The family-friendly event will feature a display of classic cars, trophies for classic cars, a variety of food vendors, and musical performances.
Musical performances include:
The OC Health Care Agency strongly recommends that children who are not vaccinated and the elderly who are at high risk wear a face mask. Face masks and hand sanitizer stations will be available at the event.