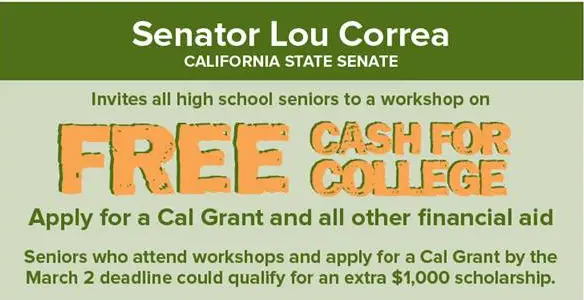 State Senator Lou Correa has begun outreach efforts to help Orange County High School Students apply for Cal Grants and Federal Financial Aid. The deadline to apply is March 2nd, 2010.
The District Office is hosting a series of 4 Cash for College workshops in Orange County: Thursday, January 21st at Santa Ana High School, Thursday, January 28th at Valley High School, Saturday, January 30th in Westminster, and Thursday, February 4th 2010 at Anaheim High School.
Students who attend will have the opportunity to win a $1000 scholarship just for attending! Please help us get the word out.  Click here to see the Santa Ana High School Flier.  Click here for the Valley High School flier.
SANTA ANA, CA- State Senator Lou Correa is working in partnership with California Cash for College, the California Student Aid Commission, and other local community organizations to host a series of free financial aid workshops in Anaheim, Fullerton, Santa Ana, and Westminster. The first two workshops are scheduled in Santa Ana for Thursday, January 21st, 2010 from 6pm-8pm at Santa Ana High School located at 520 W. Walnut St., Santa Ana, CA 92701, and on Thursday, January 28th from 6:00-8:00pm at Valley High School at 1801 S. Greenville Street.
The Cash for College workshop is designed to help students who plan to go to college or career/technical schools during the 2009-2010 academic year and secure financial aid for their expenses. At each workshop, students and parents will receive free assistance in completing the entire Free Application for Federal Student Aid (FAFSA) and Cal Grant application forms. In addition to the application assistance, students in attendance at any of the workshops will have a chance to win a $1000 scholarship just by participating and filling out an evaluation form.