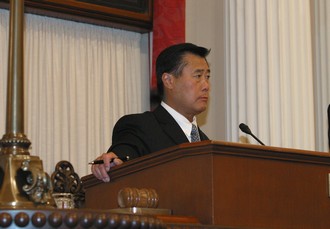 Remember the mini-scandal that surfaced when Sue Vaughn, the Principal at the Orange County High School of the Arts (OCHSA), interfered with the publishing of the school paper because she didn't like something that a student reporter wrote about a school vendor?  That happened in September of last year.  You can read all about it by clicking here.
Vaughn picked on the wrong student.  The reporter's mom turned out to be a media bigwig.  Now it appears that her mom had major political pull too.
On Tuesday, State Senator Leland Yee (D-San Francisco) introduced "SB 438 in response to Orange County High School of the Arts' insistence that administrators broke no laws when they halted printing of the student newspaper in September over objections to its content, according to an Orange County Register report, because the laws apply to public schools, not charter schools," according to the OC Weekly.
California Education Code Section 48907 would be amended to read, "Pupils of the public schools, including charter schools, shall have the right to exercise freedom of speech and of the press, including, but not limited to … the distribution of printed materials or petitions."
That sounds like a good amendment!
It really hurt OCHSA's credibility in the local arts community to foster censorship on their campus.  They are a good school, but this sort of thing should NEVER happen there, or at any other public school.
Yee had this to say about the OCHSA censorship case, in a press release issued this week on his website:
Recently, administrators at the Orange County High School of the Arts interpreted state law to not include charter schools when they halted printing of the student newspaper last September.
 
"Students in California, and throughout the country, have a fundamental right to free expression," said Yee.  "It is quite disheartening to hear that taxpayer-funded charter schools think their students do not deserve the same rights as those afforded to students at public and private schools throughout our state."
Kudos to Assemblyman Yee for introducing this important legislation!