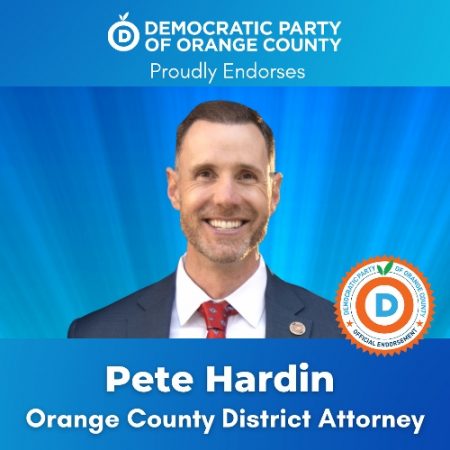 (ORANGE COUNTY, CA) – According to a breaking report from the Voice of OC and a retired senior prosecutor who was in the room at the time, woke District Attorney candidate Pete Hardin was confronted by his former supervisor at the OCDA's office over numerous allegations of sexual misconduct. The allegations were detailed in a memo that was first reported on by the Washington Examiner in January.
When Hardin was initially asked about the memo during an interview with Voice of OC on February 25, he flat out lied, stating that he "was never told about this memo or these allegations."
Who do you support for the O.C. Board of Supervisors in District 2?
Since that interview took place, former Senior Assistant DA Jaime Coulter has corroborated the authenticity of the memo and stated that he was in the room at the time when Hardin was confronted about his inappropriate behavior.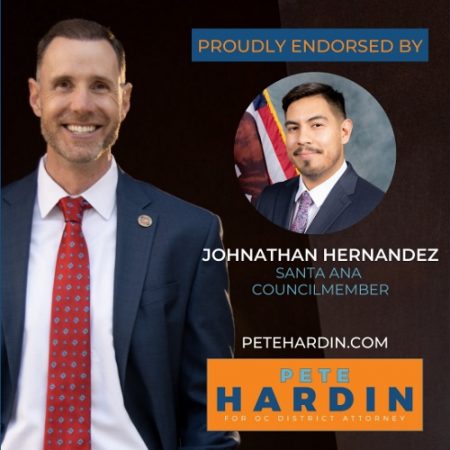 In an interview with the Voice of OC, Coulter stated: "The contents of that memo were discussed with [Hardin] personally, face to face. I was present in the room when [Hardin's direct supervisor] Jen Contini re-counseled him, pursuant to the memo. We went over the substance of the memo, counseling [Hardin] in regards to what was written in the memo. He did not contest them. He listened and gave the appearance of being contrite. And then he left the DA's office shortly thereafter. He resigned."
Hardin has falsely claimed that his resignation from the OCDA's office had nothing to do with the memo or allegations against him, and that he left for a prestigious position at the US Attorney's Office. However, according to the list of job openings on the US Attorney's website and the job title listed on Hardin's own resume ("Special Assistant U.S. Attorney"), the position was nothing more than an unpaid internship.
These troubling revelations further substantiate a disturbing pattern of behavior and dishonesty that includes Hardin being kicked out of the Marines for sexual misconduct because he violated rules against adultery.
Orange County District Attorney Todd Spitzer released the following statement in response:
"As the District Attorney, one of my most important jobs is to protect women from sexual predators, including women in my own office and in our courtrooms. I am calling on Pete Hardin to drop out of the Jaime Coulter race immediately for their sakes. Pete Hardin personally betrayed his oath to the District Attorney's Office, and he has demonstrated he cannot be trusted. Men like Hardin, who seek to leverage significant imbalances of power to coerce women into having sex with them, are some of the biggest losers in our society. Hardin's disturbing behavior is not a one off; it fits a repeated pattern that follows him everywhere he goes, including getting kicked out of the military for sexual misconduct. Hardin is dangerous, untrustworthy, and unfit for office – I am going to do everything in my power stop him in his tracks and protect Orange County."