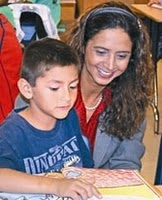 What do we really know about new SAUSD Superintendent Thelma Meléndez de Santa Ana?  We know that President Obama appointed her assistant secretary for elementary and secondary education at the Department of Education by the U.S. Senate on July 24, 2009.  What else do we know about her?
She became the Superintendent of the Pomona Unified School District in 2006.  At the time she said these were her goals, according to the Daily Bulletin:
Build a positive, productive and trusting working relationship with board members as individuals.
Understand and assess the current plan in place for the district and school sites to meet federal requirements of No Child Left Behind Program improvement status.
Communicate with parents and encourage positive partnerships on behalf of students.
Connect with political leadership in Pomona, Diamond Bar and the state to establish clear lines of communication, advocacy and support for the district's students.
Determine "where we are and where we need to go" in terms of each major division within the organization to ensure a student-focused agenda.
Review the Youth and Family Master Plan and determine the role of the school district as stated in the plan.
She was previously PUSD's assistant superintendent and chief academic officer, working with urban districts for the Stupski Foundation, whose focus is reducing the achievement gap in urban districts. She also went through the superintendents academy of the Eli Broad Center for the Management of School Systems, according to the Daily Bulletin.
The Stupski Foundation is "committed to transforming the public education system. Our goal is to design a new system that is learner-centered, provides personalized learning rather than mass instruction, and aims for consistently high outcomes for all students regardless of their ethnicity or economic status," according to their website.
Both the Stupski Foundation and the Eli Broad Center for the Management of School Systems have their critics.
When Meléndez de Santa Ana pulled out of the hunt for the Superintendent job at the Pasadena Unified School District, one of the PUSD School Board Members took a few whacks at her:
"That was a red flag for me," said Scott Phelps, PUSD board member about Melendez's affiliation with Stupski.

"The people we have had here associated with Stupski – Percy Clark was a Stupski person as was Edwin (Diaz) – they don't believe the board should do much governing. They think the board should just approve things," Phelps said.
The Daily Bulletin also cited these additional Stupski Foundation scandals:
Melendez, who could not be reached for comment, served as a program manager for Stupski from 2005 to 200. During that time she consulted the PUSD on closing the achievement gap.

The foundation has connections to school superintendents across the country.

Rudy Crew, former superintendent of the Miami-Dade County Public Schools, worked for Stupski. His contract was bought out in 2008 after allegations of financial mismanagement, according to reports in the Miami Herald.

Clark, another associate of the Stupski Foundation, resigned after he was placed on administrative leave following allegations of plagiarism and a 2006 "no confidence" vote from the leadership of the United Teachers of Pasadena.

In 2009, Stupski Foundation consultant Kristin Maschka, who worked on board member Tom Selisnke's campaign, was hired to work as a district employee six months after Selinske's election. Fellow board members characterized the move as naked political cronyism.
PUSD School Board Member Phelps also offered mixed reviews of Broad's work to reform education, applauding him for supporting changes to seniority based teacher layoffs, but criticizing Broad for circumventing school boards and the community to do so, according to the Daily Bulletin.
PUSD ended up hiring Jon Gundry, a top administrator with the Los Angeles County Office of Education, instead of Meléndez de Santa Ana, according to the Daily Bulletin.
In her Broad Center bio, expanded on her philosophy:
"I am a public education professional who believes in the ability of every child to learn. As a superintendent in an urban school district, my mission is to ensure success for all. I strive to help students who frequently are—like I was—dissuaded from achieving to their potential on the basis of gender, class, the accent with which they speak, or the color of their skin. Every day I serve in a school district, I work for each child of the district as if she were my own."
What did she do before she became a school administrator?  Again, from her Broad Center bio:
Previously, Meléndez de Santa Ana worked in the Montebello and Pasadena Unified School Districts in California as a bilingual classroom teacher, middle school assistant principal for curriculum and instruction, elementary school principal and director of instruction of elementary and middle schools.
It is too early to judge Thelma Meléndez de Santa Ana, or how she will turn out as the new SAUSD Superintendent.  The good news is that there info to read up on regarding her past.  Her future remains to be determined.