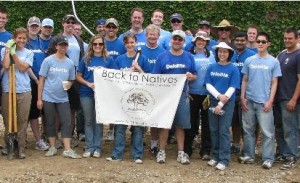 Greenhouse "Barnraising"
Saturday, July 23, Two shifts starting at 8AM!
Join Back to Natives Restoration (BTN) this coming Saturday, July 23, starting at 8 am, to help install the final parts for the shade screen cover and dig the holes for the propagation benches and move in the DG floor for BTN's new greenhouse at the Back to Natives Nursery site at Santiago Park in Santa Ana.
Where:
600 E Memory Lane
Santa Ana Ca, 92705
Directions
We will have two shifts, 8am-Noon and Noon to 4pm. Pelase be sure to let us know which shift you wish to work on!
After you turn in at the Santiago Nature Preserve Sign, drive past the Nature Center, past the slides, and turn left just before the railroad bridge. If you make it to the Archery field you have gone to far!
Bring a hat, sunscreen, gloves, eye protection, plenty of water, and a sack lunch! Dress in layers. It is cool in the morning and hot by 11am.
Carpooling is reccomended as parking is extremely limited.
If you have been wanting to help out with BTN, this greenhouse and Native Nursery will put BTN on the road to self sufficiency! With space to grow a potential 23,000 plants at once with the correct propagation platforms, BTN may not need to spend $15,000 -$30,000 on wholesale plants each year as we have done in the past! Your assistance this day will be a fantastic contribution to BTN's Future.
Thank you!
– the BTN Staff
BTN Still Needs Your Support
BTN needs $2400 to purchase the propagation platforms needed to grow Native Plants! Visit our website to make a donation – every donation helps, no matter the size!
Be a Seed Superstar! – $300
Be a Restoration Hero! – $500.00
Be a Restoration Super-Hero! – $1,000.00
Thank you,
The BTN Staff