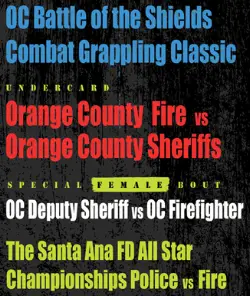 Combat Grappling Classic
BadgeFights Combat Sport League will be presenting Orange County's Battle of the Shields Combat Grappling Classic, featuring for the first time…
Orange County Fire vs. Orange County Sheriffs
Plus a special feature…
Special Female Bout!
OC DEPUTY SHERIFF vs. OC FIREFIGHTER!
In addition to the fight, the event will have food, beer, live music, and professional MMA exhibitions and autographs!
WHEN: Saturday, August 06, 2011 from 5:00 PM – 10:00 PM (PT)
WHERE: Phoenix Club @ 1340 Sanderson Ave, Anaheim, CA 92806
TICKETS:
$25 General Admission
$35 VIP Ringside
HOW TO PURCHASE TICKETS:
Please contact the following individuals/locations:
AOCDS
1314 W. 5TH, Santa Ana 92703 (Credit Card Accepted)
Sgt. Bill McGovern – South Station
Dep. M. Duran, South Station (Lake Forest)
Dep. R. Hilton – Central Court
Dr. April Lopez, Stadium Chiropractic
2029 W. Orangewood, Orange 92868(Credit Card Accepted)
Lenora Pena – Brad Gates Building
Vianey Castro – HQ
Online (see below)
You may order tickets by clicking here. For more information, contact Shiree at (714) 285-2800 or battle@aocds.org.
All tickets purchased for this event benefits the Association of Orange County Deputy Sheriff's Memorial Fund, an IRS 501(c) (3) tax exempt organization.