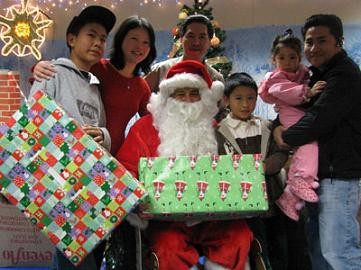 State Senator Lou Correa
November 2012
Charitable Holiday Events in Orange County
Thanksgiving affords our nation an opportunity to come together, celebrate and give thanks. In this spirit, community advocates gather annually to spread Thanksgiving cheer and ensure all individuals have an opportunity to enjoy the holiday. This year churches, restaurants and rescue missions throughout Orange County will be providing nutritious meals and shelter. Below is a list of charitable organizations holding Thanksgiving Day events, all of which are free and open to everyone.
Here are some location that will provide food for the holidays:
We Give Thanks- La Casa Garcia
Tel: (714) 740-1108
Orange County Rescue Mission
Address:One Hope Drive, Tustin, CA 92782
Phone: (714) 247-4300
Toll-Free: (800) 663-3074
All For You Lord Ministries
121 W Cypress St.Anaheim, CA 92805
Contact: Rosemary Martinez
Phone 562-686-3165
Website http://afylministries.org
Interest Area: Children & Youth, Community, Faith-Based, Hunger, Women
St. Joseph's
608 Civic Center East, Santa Ana 92701
Hot meal every Saturday morning from 9:00am – 1:00pm
St. Justin Martyr
2050 W. Ball Road, Anaheim 92804
Hot meal every Sunday afternoon from 2:30pm – 3:30pm
We Care Family Ministry
6801 Western Avenue, Buena Park 90621
Hot meals for breakfast from 7am- 8am and dinner from 5pm- 7pm every day except Sunday
Someone Cares Soup Kitchen
720 W. 19th Street, Costa Mesa 92627
Hot Meals Monday through Friday from 1:00pm – 4:00pm and Saturdays and Sundays from 9:00am – 11:00am
Mary's Kitchen
517 W. Struck Ave, Orange 92866
Hot Meals Monday through Friday, Breakfast at 9:00am and Lunch at 1:00pm
Hospitality Saturday
585 S. Walnut, Brea 92821
Hot Meals Saturdays 8:30am – 11:30am
Calvary Chapel West Grove
Garden Grove Park
Hot Meals every Monday at 7:00pm
First Lutheran Church of Fullerton
215 N. Lemon, Fullerton 92832
Hot Meals every Tuesday at 6:00pm
Lighthouse Outreach Ministries
1885 Anaheim Ave, Costa Mesa 92627
Breakfast: Sunday – Friday 8am
Lunch: Saturdays at 3pm
Dinner: Thursdays at 7pm
Calvary Chapel Beachside
19400 Beach Blvd, Huntington Beach 92648
Hot Meals every Friday from 5:30pm- 7:30pm
Thanksgiving Church
Delivers meals in Garden Grove Saturdays and Sundays
Please call 714-521-0991
Please contact respective organization location for verification of correct hours and location.
For Volunteer oportunities to help feed those in need please visit OneOC Holiday Directory (CLICK HERE).
Everyone deserves a happy, healthy and safe Thanksgiving. I encourage you to share these events with those less fortunate.
Happy Thanksgiving to you and your loved ones.
Sincerely,
LOU CORREA
Senator, 34th District