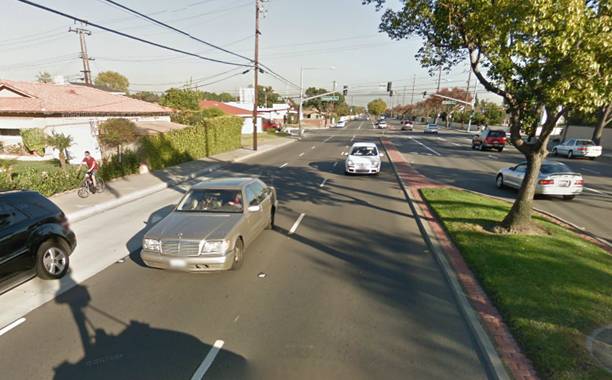 Approximate area of the hit and run accident
SAPD Advisory: 13 Year old female riding bike in crosswalk is struck by unknown vehicle. Suspect flees the scene, victim in ctitical condition.
On Monday evening (2-06-12), at approximately 7:00 PM, a 13 year old girl riding her bicycle north on Greenville across Warner was hit by an unknown vehicle driving west on Warner Avenue. The girl was knocked to the ground and sustained severe injuries. The unknown driver fled, making no attempt to stop or check on the condition of the injured girl. Passing motorists stopped to render aid to the girl lying in the roadway. The cause of this collision has not yet been determined and is under investigation. The victim remains in critical condition at a local hospital.
Detectives believe there may have been potential wittiness to the crime that left the scene prior to officers arriving. Any witnesses or person(s) with information about this collision are encouraged to call the Santa Ana Police Traffic Division at (714) 245-8214.
###
Editor's Note: The City of Santa Ana is hosting Open Houses on 2/8 and 2/11 regarding our bike trails and streets.  Click here for more info.