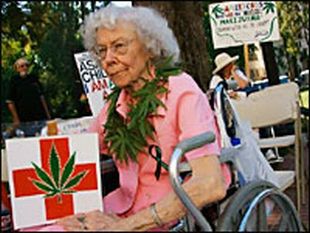 A group called the Committee to Support Medical Marijuana Ballot Initiative pulled paperwork from the Santa Ana City Clerk to begin the process of gatherings the roughly 5000 signatures needed to qualify it for the November ballot, according to a post written by OC GOP Central Committee Member, and Santa Ana resident, Thomas Gordon, at the OC Political blog.
According to Gordon, "The initiative would allow medical marijuana dispensaries to operate under strict guidelines such as limiting hours from 9 am to 9 pm, restricting patients to 21 years of age and older, forbid loitering and limit dispensaries no closer than 600 feet from a school or park. It would also limit the number of dispensaries in Santa Ana to 20."
Gordon did not note his own position on this issue.  In the past he has been active in opposing graffiti – going as far as to write an ordinance that targeted the families of taggers and sought to bill them for the damage done to properties.  That ordinance passed but has accomplished nothing, for various reasons.  Gordon was also tossed off the EPIC Commission a couple years ago and in 2010 he attempted to run for Ward 6 on the Santa Ana City Council, but was thwarted when he fell short of collecting enough nomination signatures.  Even his own signature was thrown out.
There is already a state measure on the ballot, that proposes to Regulate Marijuana Like Wine.  According to that campaign's website, "A recent poll reveals that California voters, by a 62% to 35% margin, with 3% unsure, support a ballot initiative to regulate marijuana like wine."
The statewide poll, by Fairbank, Maslin, Maullin, Metz & Associates, Inc. surveyed 800 likely voters and found that 80% of the respondents agreed to the statement, "State and federal drug laws are outdated and have failed, therefore, we need to take a new approach that makes sense for today."
Gordon also noted in his post that "In 1996 California voters passed Prop 215 which legalized the use of marijuana for medical purposes so long as it was through community collectives."