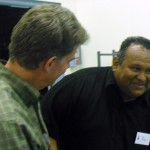 The community group called SACReD met with several Santa Ana City Council Members last night at a Community Meeting, to discuss a proposed CBA (Community Benefit Agreement).
The premise behind CBAs is that community leaders will work with developers and city planning agencies to assure services for local residents, when massive developments are planned in their areas.
Such is the case with the proposed Santa Ana Transit Zone.  However, the effort in this case seems somewhat misguided since the Transit Zone development already includes affordable housing elements.
I was on the Santa Ana Redevelopment Commission when the properties the city acquired in the Lacy neighborhood area were first being abated.  Many of them were filthy with asbestos and lead paint.
The city planners told us that the properties were acquired with redevelopment money.  At the time they planned to build affordable housing on the west side, and then use the Lacy properties to build townhomes and lofts.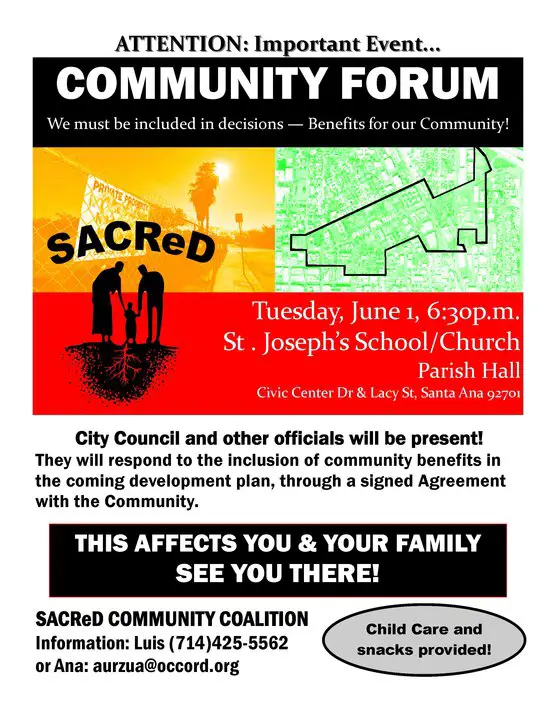 Now the city is planning to go forward with a mixed development that includes affordable housing.  Perhaps that is why a group of residents who are not Latinos has joined with SACReD to sue the city to stop the project.
I spoke to one of them last night, former City Commissioner Jeff Dickman.  He said that the properties he want to save are pretty old, and are in relatively good condition.  But are they really historic?
Council Members Michele Martinez, Sal Tinajero and David Benavides spoke at the meeting.  Martinez rode to the meeting on her bike.  Her colleague, Councilman Carlos Bustamante, showed up too, but he was too afraid, apparently, to step inside.  He stayed outside and left early. 
Tinajero was disappointed by the actions of the activists.  He explained that we finally have an all-Latino City Council – and the haters have been ousted.  And he expressed disgust that the haters are now involved in suing the city to stop the Transit Zone development.
Some of those haters were at the meeting, including Julie Stroud, whose husband Glen was tossed off a City Commission himself a few months ago.  He then led an investigation of the city by the O.C. Grand Jury, tainting the report in the process.
Tinajero reminded the crowd that these same haters were the ones that erected illegal traffic barriers in French Park.  The ACLU had to sue the city to get them removed.
Benavides disappointed his Council colleagues by telling the audience that he is not sure if he is going to support the Transit Zone project.  That came as a surprise as he has not said such a thing before.  He appointed Stroud to the Santa Ana Parks and Recreation Commission, so he might have been splitting hairs to try to please her and her allies.
I spoke to several of the activists when I arrived.  Many are old friends who sincerely want to make a difference.  I explained to them that this is not the way to do it – allying with the Usual Suspects is a bad idea.
One of them said that our only hope is to elect Alfredo Amezcua as Mayor.  I reminded him that Amezcua partnered with George Pla, the businessman whose contract with the City was investigated by the Grand Jury.  Together, Pla and Amezcua opened the ill-fated Santa Ana Business Bank, which was eventually sold at a loss to a group of investors in Los Angeles.
My friend then said that only Amezcua could push through mayoral term limits.  Not so, I told him.  The City Council won't work with him.
If these folks truly want change they need to draft a ward-specific elections ballot measure and put it on the November ballot.  That is the only way that activists will get elected to the City Council.
Until then, we should be happy to have an all-Latino City Council to work with.  These are good people, for the most part.  Martinez and Tinajero, in particular, are solid progressives who care about the community.
My sources at city hall tell me that a deal may yet be cut, but now with SACReD, which is not an official organization.  If anything, the City Council might draft a CBA with the Kennedy Commission, which advocates for affordable housing.  We will have to wait and see if that comes to pass.