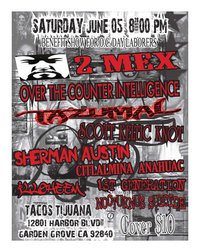 BENEFIT SHOW FOR OC DAY LABORERS
Saturday June 5th, at 7:30 pm
Featured artists:
2MEX
OvEr tHe cOUnter InTELLigeNCE
Tazumal
Scot Keltic Knot
Sherman Austin
Citlalmina Anahuac
Illoheem
1st Generation
Nocturnus Suicide
more to be announced!
$10.00 charge.  Food and drinks will be sold.  NO DRUGS Allowed!
Start Time: Saturday, June 5, 2010 at 7:30pm
End Time: Sunday, June 6, 2010 at 1:00am
Location: Tacos Tijuana
Street: 12801 Harbor Blvd.
City/Town: Garden Grove, CA
Click here to RSVP on Facebook.