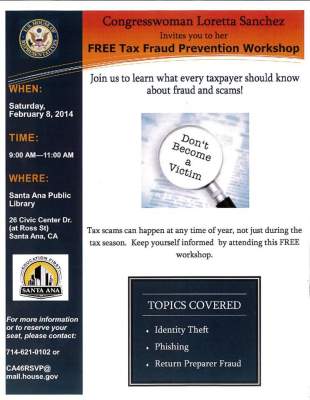 Congresswoman Loretta Sanchez is hosting a free Tax Fraud Prevention Workshop on Saturday, February 8, 2014, from 9:00 am-11:00 am at the Santa Ana Public Library (Meeting Room A), located at 26 Civic Center Plaza, in Santa Ana.
Join us to learn what every taxpayer should know about fraud and scams!
Topics covered:
-Identity theft
-Phishing
-Return preparer fraud
For more information or to reserve your seat, call: (714) 621-0108 or contact CA46RSVP@mail.house.gov.