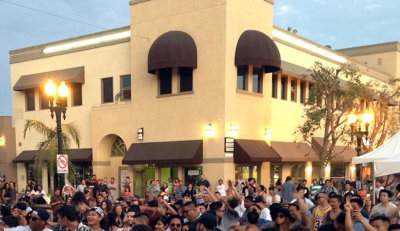 Santa Ana's Planning Commission will be considering a request by representatives of the Fourth Street Market for conditional use permits to allow a Type 47 Alcoholic Beverage Control (ABC) license, after hours operation, and a banquet use in the Specific Development 84 (SD84) zoning district on Monday, August 25, 2014 at 5:30 pm. (Click here to read the Planning Commission agenda).
The Fourth Street Market is the crowning gem of the Downtown Santa Ana (DTSA) gentrifiers.  It will be located at 201 East Fourth Street and is owned by Ryan Chase's East End Partners.  What is this development?  Well it is a "groovy food hall" – and when it opens it will join five other hipster eating establishments including OC Mix in Costa Mesa, the Anaheim Packing House, the Union Market in Tustin and, by the end of the year, another high-end artisinal food complex in Mission Viejo, according to Orange Coast Magazine.
So far at the Anaheim food hall, the crowds have not let up – though many visitors have complained about the lack of nearby parking, according to the OC Register.
I found a public relations article that had quite a few details about what the Fourth Street Market will look like:
In collaboration with Chapman College, the 4th Street Market Incubator kitchens will be the only shared kitchen spaces that will be powered by FoodCentricity. These cutting edge facilities will arrive replete with full computer services, allowing artisans not only a workspace, but an unparalleled education in the creation, foundations, legalities, and health requirements of a success food business.

Portola Coffee Lab – The acclaimed Costa Mesa coffee company will serve as the primary anchor tenant of the 4

th

 Street Market, bringing a full range of high end, third wave coffee preparations, as well as a unique offering of Mexican drip coffee specialties, in honor of the residential neighborhood legacy of Santa Ana.

The Electric City Butcher – Chef Michael Puglisi, previously of Thomas Keller's famed Bouchon Beverly Hills will debut an old world, European style butcher shop, where the butcher will freshly prepare specialty cuts, per guest request. ECB will harken to a bygone day of pristinely sourced products, with demonstrations, cooking tips, and tastings arriving casually and frequently.
Small Batch Shops – SBS presents a cutting edge retail incubator for small retail, artisanal food businesses and start-ups. Within SBS, independent retailers are guided to launch businesses with low overhead and approachable capitol expenditure requirements. Included in the space are tasting bars, where guests may sample products produced in the 4th Street Markets incubator kitchens, as well as from established and acclaimed artisans curated from around the country, as well as a selections of rare and unique wines.
Chef Jason Quinn, of Santa Ana's highly acclaimed restaurant Playground will offer three small platform dining concepts, including fried chicken, gourmet hamburgers, and an exotic noodle bar.
Needless to say many Latino businesses were moved out of the way to make room for the Fourth Street Market – a continuation of what happened in what used to be the Fiesta Marketplace, which is now called the East End Promenade.
Can all of these high end food halls survive?  Can such a concept thrive in Santa Ana?  The key according to experts is to keep the crowds coming.  This enterprise won't be attractive to most working families in Santa Ana.  But the City Council and the OCTA are already planning to build a street car that will run along 4th Street, from the Train Station to the lame downtown in Garden Grove.  And if Mike Harrah can ever build his One Broadway Plaza it will theoretically bring hundreds if not thousands of office employees to DTSA.
But first Chase and company need to convince the Santa Ana Planning Commission to give them what they want.  And the sticking point could be their request for an After Hours Operation.  This is what Councilman David Benavides and his Planning Commissioner, Phil Bacerra, have been promoting – allowing DTSA bars to stay open until 4 am.  This is simply not called for and I have a feeling that the Planning Commission won't go for it but we will have to see.
If you would like to let the gentrifiers have a peace of your mind feel free to attend the Planning Commission meeting on Monday.  It will be held at 5:30 pm at the City Council Chambers, located at 22 Civic Center Plaza, in Santa Ana.