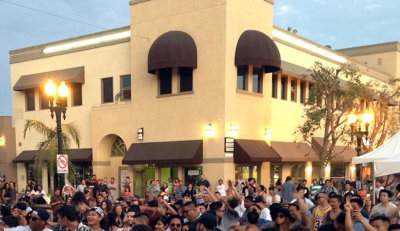 Santa Ana's Planning Commission will be considering a request by representatives of the Fourth Street Market for conditional use permits to allow a Type 47 Alcoholic Beverage Control (ABC) license, after hours operation, and a banquet use in the Specific Development 84 (SD84) zoning district on Monday, August 25, 2014 at 5:30 pm. (Click here to read the Planning Commission agenda).
The Fourth Street Market is the crowning gem of the Downtown Santa Ana (DTSA) gentrifiers.  It will be located at 201 East Fourth Street and is owned by Ryan Chase's East End Partners.  What is this development?  Well it is a "groovy food hall" – and when it opens it will join five other hipster eating establishments including OC Mix in Costa Mesa, the Anaheim Packing House, the Union Market in Tustin and, by the end of the year, another high-end artisinal food complex in Mission Viejo, according to Orange Coast Magazine.
So far at the Anaheim food hall, the crowds have not let up – though many visitors have complained about the lack of nearby parking, according to the OC Register.
I found a public relations article that had quite a few details about what the Fourth Street Market will look like: Continue reading→