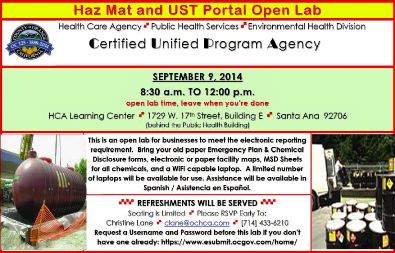 The Orange County Environmental Health Division is offering free training to Santa Ana business owners and operators. This agency regulates businesses that use or store hazardous materials at their facilities. These businesses include gas stations, auto repair shops, dry cleaners, manufacturing facilities (and any other type of industry where hazardous liquids, solids or compressed gases are used/stored).
They are required to submit a Hazardous Material Disclosure and Business Emergency Plan annually.  Historically, these documents would have been submitted to Santa Ana Fire (then the Orange County Fire Authority). There have been many changes in the past couple of years and now the OC Health Care Agency implements these programs.

The OC Health Care Agency will be hosting free workshops in Santa Ana, on September 9, 2014, for business owners and operators to help them navigate the complex requirements associated with the hazardous materials forms and underground storage tank programs.
The morning training session will be focused on submitting compliance documents on the web (a new state requirement) via the county's E-Submit Portal.  The Haz Mat and UST Portal Open Lab Workshop is set for September 9, 2014, from 8:30 am-12 pm.
Bring your old written Emergency Plan and Chemical Disclosure forms, electronic or paper facility maps, MSDS (or SDS) chemical data sheets and chemical inventory forms and a WIFI capable laptop with you to the workshop.  A limited number of laptops will be available for public use.  Assistance will be available in English and Spanish.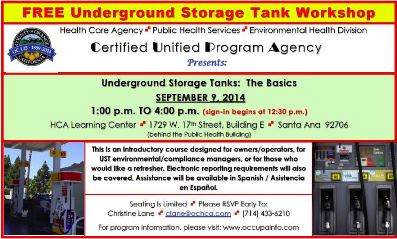 An afternoon session will focus on underground storage tank requirements for gas station/fleet fueling facility owners and operators.  The Free Underground Storage Tank Workshop is set for September 9, 2014, from 1 pm-4 pm.
This is an introductory class for owners/operators and for UST environmental compliance managers, or those who would like a refresher.  Electronic reporting requirements will also be covered. Assistance will be available in English and Spanish.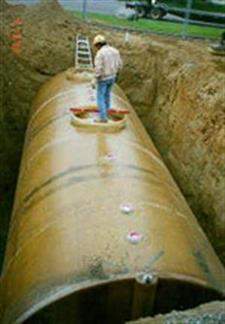 The Workshops will be held at the HCA Learning Center located at 1729 W. 17th St., Building #, in Santa Ana (behind the Public Health Building).
Seating for both workshops is limited.  Please RSVP early to Christine Lane at clane@ochca.com or call her at (714) 433-6210.  Please also request a username and password before the Underground Storage Workshop if you don't have one already here.