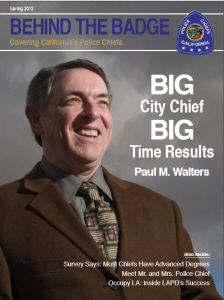 Former SAPD Police Chief Paul Walters has been tabbed as an Executive Fellow with The Police Foundation. The purpose of the Police Foundation is to help the police be more effective in doing their job, whether it be deterring robberies, intervening in potentially injurious family disputes, or working to improve relationships between the police and the communities they serve.
Here is the official announcement by the Police Foundation:
The Police Foundation is honored to welcome our latest Executive Fellow, Paul M. Walters, who retired last year after 24 years as Chief of the Santa Ana Police Department in California. Walters was the longest-serving chief of a major U.S. city in modern history, and received accolades from a number of presidents for his work in community policing and anti-gang violence efforts.
Walters is currently a Senior Associate with the Center for Public Safety Management, International City/County Management Association (ICMA), in Washington, DC.
He joins a tremendously talented and experienced group of current and former law enforcement leaders as a Police Foundation executive fellow. The program is designed to have career-enhancing opportunities for law enforcement personnel and researchers interested in police policy on a national level, and the application of technology, research, and/or training development. Based on need and professional backgrounds, Fellows are assigned to projects that best match their professional or academic experience, but may be asked to assist with projects across the Foundation.
Paul M. Walters served as Chief of Police in Santa Ana, California, from 1988 to 2013. When Walters was first appointed chief, the department had 359 officers serving 293,000 people. Budget cuts reduced that to 320 officers by the time he retired – but the force now protects 335,000 residents – and a total population of 500,000 during the working day. At the same time, the crime rate has dropped to the lowest level in almost 40 years and gang violence fell by more than 40 percent a year in 2011 and 2012.
Under Walters' leadership, the Santa Ana Police Department was recognized since 1997 as a National Demonstration Site and Training Center for Community Policing and Problem Solving. He trained and assisted numerous police executives and public officials from throughout the country on how to implement innovative Community Policing strategies. During his tenure, Santa Ana built a new police administration building and jail designed to support Community Policing Strategies.
###