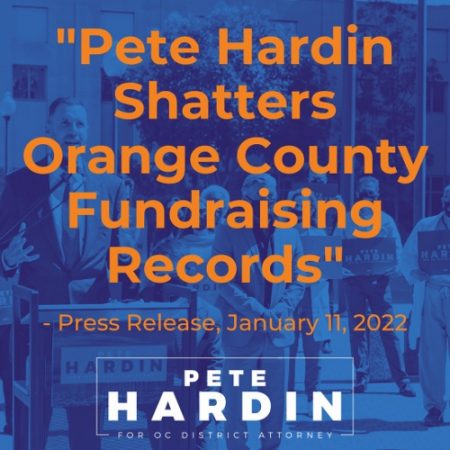 ORANGE – Today, Marine combat veteran and former military prosecutor, Special Assistant United States Attorney, and Deputy District Attorney, Pete Hardin, announced that his campaign for Orange County District Attorney had raised over $640,000 since the campaign launched in March. The campaign has received contributions from over 2,000 individual contributors and the majority of contributions are under $100. Pete Hardin is a first time candidate facing a 25-year politician in incumbent DA, Todd Spitzer.
"The outpouring of support reflects a community that wants safety, justice, and integrity," said former Marine Judge Advocate Pete Hardin. "Our message of a modern system of justice that's based on data and social science instead of hyperbole is resonating with voters, but we are shattering records because Todd Spitzer has shattered the public's trust. He spends his time going on ultra-conservative talk shows to critique prosecutors in other counties while crime and homelessness continue to rise here in OC. He is distracted, he has dropped the ball, and it's time to end the sideshow that defines his time in office."
Since Todd Spitzer took office, violent crime has spiked, homelessness has skyrocketed more than 40%, and hate crimes against the AAPI community have jumped more than 1800%. Furthermore, Spitzer faces at least five lawsuits for turning a blind eye to rampant sexual harassment in his office, including one lawsuit alleging he knowingly promoted a perpetrator of sexual harassment to a senior staff position. Election Day is June 7.
Current Orange County District Attorney Republican Todd Spitzer's tenure has been defined by scandal. Four women in Spitzer's office have filed claims asserting Spitzer promoted an employee and close friend despite having been made aware of the sexual harassment complaints against him. Spitzer later allowed the employee, who was the best man at his wedding, to retire with top flight benefits. Spitzer also attempted to drop sexual assault charges against high-profile defendants, leading a judge to remove him from the case. Survivors of the sexual assault survivors were "dragged through the mud" and "grossly mistreated" by Spitzer for two and a half years, leading two of them to abandon their case.
Spitzer has been involved in an evidence booking scandal, a jailhouse informant scandal, and has defamed a victim of OC's deadliest mass shooting as retaliation for peaceful protest. Spitzer has also defended a DNA collection program known informally as "Spit and Acquit" that coerces defendants to give up their DNA to law enforcement, a practice the ACLU has called "unconstitutional."
Pete Hardin is a former Judge Advocate in the U.S. Marine Corps, Deputy District Attorney, Special Assistant United States Attorney, and one of Southern California's leading litigators running for Orange County District Attorney. Pete entered public service when, in 2005, he earned his commission as a second lieutenant in the Marine Corps. A combat veteran, Pete served in Helmand Province, Afghanistan in 2011 and 2012 as a member of 1st Reconnaissance Battalion. Pete is a member of the Democratic Party.
Orange County's rapidly changing electorate has led Democrats to now outnumber Republicans in Orange County holding a 4.1% voter registration advantage.