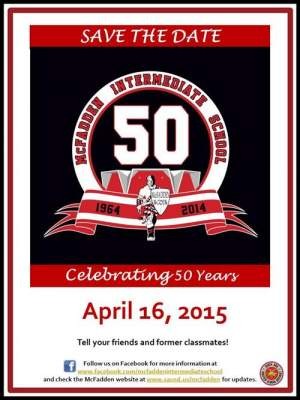 FOR IMMEDIATE RELEASE
Contact: Deidra Powell, Chief Communications Officer, (714) 558-5555, (714) 673-4995 Mobile
McFadden Intermediate School Celebrates 50 Years on April 16, 2015
Celebration of Serving 6 -8 grade students of Santa Ana with a high-quality education
(April 1, 2015) – The McFadden Intermediate School community invites all former and current students, staff, and parents to join in the celebration of 50 years of providing a high-quality education to the Santa Ana community on Thursday, April 16, 2015 at 4:00 p.m. during the school's annual Open House. "We are extremely excited to celebrate 50 years of excellence at McFadden Intermediate School. Our community has benefited from excellent instruction, top tier staff and a supportive parental involvement. We are looking forward to the next 50 years as we embark in "Designing 21st Century Learning" and educate the future leaders and outstanding citizens of this community," said Ignacio Muniz, Principal of McFadden.
What makes this celebration extra special is the participation of its first principal Pat Hoffman. At 90 plus years old, Mr. Hoffman will celebrate this historical moment with many of his colleagues who worked at the school during the early years. Last year, Mr. Hoffman returned to McFadden for Principal for a Day. Although a lot has changed since his time in the sixties and seventies, the rich tradition of the Scots remains the same.
"What an honor it is to have Mr. Hoffman with us to participate in the rededication ceremony and the unveiling of our mural on the dais in the quad that will renew a long standing tradition of school pride," said Muniz.
McFadden is located at 2701 South Raitt Street in Santa Ana. If you are interested in pre-coverage of this event or coverage of the event itself, please contact Deidra Powell at deidra.powell@sausd.us or (714) 673-4995. Video of the event will be available after the event per your request.
###