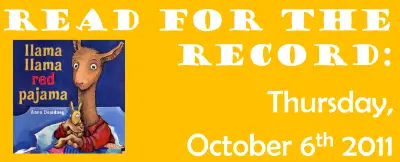 Join the Early Literacy Program of THINK Together on October 6 at one of three locations in Orange County to read to young children. This Read for the Record event is a national event, involving thousands of volunteer readers nationwide who will all be reading the same book – llama lllama red pajama – on the same day to children across the country to draw attention to the importance of early literacy.
Carve out 30 minutes on October 6 to support this cause and read this book to local children (books will be provided). You can register in advance or just show up at one of the three locations on October 6. To learn more, contact Gloria Martinez at 714-824-3522, ext. 8630 or register via email at gmartinez@THINKtogether.org.
Locations & times: Pretend City Children's Museum, Irvine, 10 a.m.-5 p.m.; Westfield Mainplace Mall, Santa Ana, 10 a.m.-9 p.m.; and Barnes & Nobel Meto Pointe, Costa Mesa, 2 p.m.-5 p.m. See you there. Mark your calendar today and spread the word to your friends, co-workers and professional contacts. Join THINK Together in raising the importance of early literacy!
Guest Reader Schedule
Jay Johnstone- Angels Alumni Player 10:00am-12:00pm
Councilmember Sarmiento 11:00am-12:00pm
LA Galaxy Street Team 12:00pm-1:00pm
Lakers basketball girls 1:00pm-2:00pm
Santa Ana Fire Department 1:00pm-2:00pm
Angels Strike Force Girls 2:00pm-3:00pm
Randy Barth, CEO THINK 4:00pm-5:00pm
Santa Ana Police Department 5:00pm-8:00pm