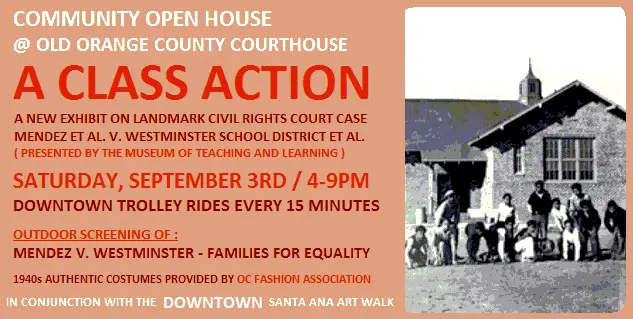 THE MUSEUM OF TEACHING AND LEARNING (MOTAL) IN CONCERT WITH OCPARKS- THE OLD COUNTY COURTHOUSE PRESENTS A CLASS ACTION EXHIBIT –  BEGINS ON SEPTEMBER 3, 2011 AND RUNS THROUGH JUNE 2012
The Museum of Teaching and Learning (MOTAL) and its collaborators bring their exhibit A Class Action: The Grassroots Struggle for School Desegregation in California- Mendez et al v. Westminster et al to Orange County. Collaborators include OCParks, the Center for Oral and Public History, California State University, Fullerton, the Orange County Department of Education, the Orange County Historical Commission and Chapman University.
According to Dr. Greta Nagel, President and founder of the Museum of Teaching and Learning, "We are excited to find an outstanding museum to showcase our exhibit, and we have an exciting group of educators, curators, historians, and designers to mount this exciting, interactive exhibit.
Dr. Nagel further said, "Our goal is to educate and inspire the thousands of school children in Orange County and this premier exhibit is one of many we plan for the future. There is no cost to the public for the dozens of programs we will present from September 2011 through June 2012, and we would welcome any individual or corporate sponsorship underwriting to reach our large community.
Most programs will be held at the Old Orange County Courthouse at 211 W. Santa Ana Blvd.  Santa Ana, CA 92701. To RSVP or get general information you may call the Old Orange County Courthouse at 714-973-6655 or oldcourthousersvp@ocparks.com
Information is also available at http://www.MOTAL.org.
If you would like more information on how you or your organization can support this outstanding historical reenactment, please contact Dr. Nagel directly at (714) 814-4221 by email atnagel@motal.org or check out the new website at http://www.motal.org.