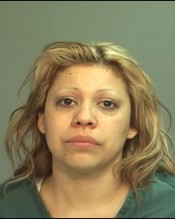 SAPD Photo
TONY RACKAUCKAS, ORANGE COUNTY DISTRICT ATTORNEY
PRESS RELEASE, FOR IMMEDIATE RELEASE: Date: September 2, 2011
Susan Kang Schroeder, Office: 714-347-8408, Cell: 714-292-2718
Chief of Staff Farrah Emami, Spokesperson, Office: 714-347-8405, Cell: 714-323-4486
Case # 10CF0832: WIFE CONVICTED OF MANSLAUGHTER FOR SLICING AND KILLING HUSBAND WITH KNIFE DURING ARGUMENT
SANTA ANA – A wife was convicted today of manslaughter for slicing and killing her husband with a knife during an argument. Janeth Hernandez, 30, Santa Ana, pleaded guilty today, Sept. 2, 2011, to one felony count of manslaughter and a sentencing enhancement for the personal use of a deadly weapon. She faces a maximum sentence of 12 years in state prison at her sentencing hearing Oct. 14, 2011, at 8:30 a.m. in Department C-41, Central Justice Center, Santa Ana.
On April 4, 2010, Hernandez and her husband Carlos Humberto Vallejo were scheduled to go to a family event for Easter, but instead they attended a different party with in Santa Ana. After midnight, Hernandez left the party without her husband and drove home. She later returned to the party to pick up Vallejo and drive him home.
In the early morning of April 5, 2010, family members were asleep inside the house when Hernandez got into a verbal fight with her husband over the party they had attended and used a knife on him, slicing his thigh. Family members, who heard screaming and a thud, walked into the room to find Vallejo on the floor and bleeding profusely from the leg. A family member called 911 while the other family members tried to assist the victim. Vallejo died at the scene.
Senior Deputy District Attorney Larry Yellin of the Homicide Unit is prosecuting this case.
###
www.orangecountyda.com • 401 Civic Center Drive West, Santa Ana, CA 92701