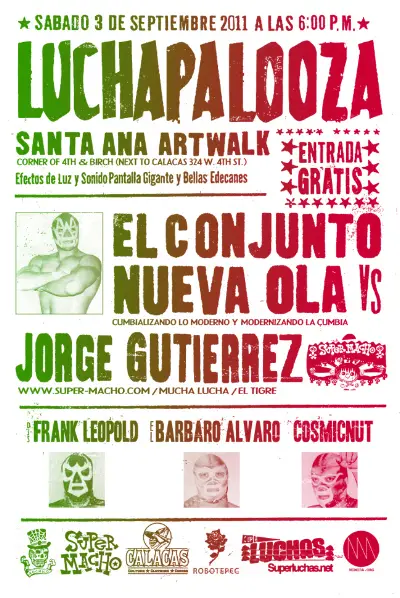 This Saturday's Santa Ana Art Walk is going to be amazing – with more entertainment and events than ever before.
For starters, how about some lucha libre?  Luchpaloozawill be starting at 6 pm, at 324 W. 4th Street, in Downtown Santa Ana.  FREE!! Lucha Libre!!! Music and more! 
And the CSUF Grand Central Art Center is hosting three new shows, from 7:00-10:00 p.m.:
Main Gallery: Chaos Job: Restrain Order, an installation by George Herms in conjunction with Pacific Standard Time (image of George Herms courtesy of Venice in Venice)
Project Room:, Byblos: Return to my Inspiration, paintings by artist-in-residence Choucrallah Fattouh
Sales Gallery:, dwell, featuring the residents of GCAC
But that's not all!  They are also hosting a Fashion Show, from 7 pm to 8 pm, featuring Mens/Womens Clothing, and a Bag Line Collection.  Victor Hugo Ayala is the event creator.  Click here to RSVP on Facebook.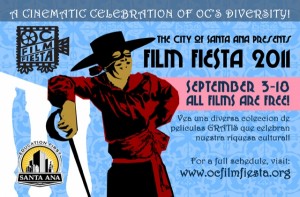 The OC Film Fiesta will also be taking place on Saturday, from 7 pm to 10 pm, between Historic OC Court House and Howe-Waffle House 120 W. Civic Center Drive, Santa Ana, CA 92701 Santa Ana.  Click here to find out more about their opening night event.
You are invited to a free cinematic celebration of Santa Ana's Latino heritage and OC's cultural diversity as part of the 2nd OC Film Fiesta in Santa Ana. Please join us at 7:00 pm on Sat., Sept. 3 as we kick off the Film Fiesta with a special screening under the stars of the Douglas Fairbanks silent classic The Mark of Zorro at 120 W. Civic Center Drive (at Sycamore) in downtown Santa Ana with a vintage 1920s car show and Roaring '20s music.
Orange County's own international ambassador of swashbuckling, Zorro, makes his first silver screen appearance in this masterful and wildly acrobatic tale of Old California starring Douglas Fairbanks, Marguerite De la Motte and Noah Beery. When Don Diego returns from Spain and finds that his beloved Capistrano has taken a turn for the worse, only the mysterious masked hero Zorro can help put things right OC-style.
Also, there will be a special free family screening of a classic Orange County story between the historic OC Court House and the Howe-Waffle House.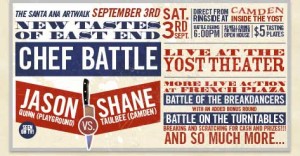 The new East End Promenade will be hosting artists, chefs, bands, prizes, chefs, dancers, historic tours, princess party, bridal/quinceanera showcase…. AND SO MUCH MORE!  Click here to RSVP on Facebook.  www.YostTheater.com.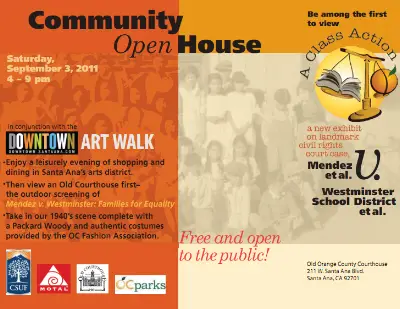 The Old O.C. Courthouse is also hosting an Open House on Saturday night, from 4 to 9 pm, featuring a free screening of "A Class Action," a documentary about the Mendez family's battle against the Westminster School District.  Click here to learn more about this event.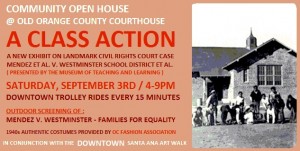 Here are a few more events to take note of: