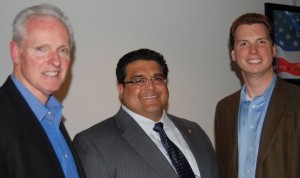 Daly and his fellow overpaid government worker pals…
I just got a tip that O.C. Clerk-Recorder Tom Daly is going to be announcing his campaign for the 69th Assembly District today.  The timing makes sense as this will allow him to take the stage at the O.C. Labor Day event, at the Santa Ana Zoo, and pimp for votes.
Daly was the Mayor of Anaheim back in the 90's.  In his last campaign, in 1998, he beat Bob Zemel, a Republican, by 54% to 40%, according to Smart Voter.  He ran on a platform of hiring more cops, not raising taxes and "beautifying and revitalizing" Anaheim – which is Usual Suspect code for getting rid of the poor and the immigrants.
Has Daly done a good job as O.C. Clerk-Recorder?  Well, when he took office there were $30 million in 12D funds in the Clerk-Recorder's bank account.  This money is a fee collected from title companies – the fund is supposed to be used to foster technological changes at the Clerk-Recorder's office.  But today there are perhaps $9 million left in the account – and Daly's office still doesn't offer much in the way of online services.  He has obviously been transferring the money to his general fund.
Now why would Daly do that?  Well, he has been on a hiring frenzy for years.  He hired former reporter Jean Pasco to be the curator of the O.C. archives, that hardly anyone gives a damn about.  He has since hired no less than four staffers to help Pasco with her unimportant mission.
Daly also hired Jordan Brandman, a shifty AUHSD Trustee who pals around with Republicans, in an obvious move to place a successor in his office.
Here is what the FFFF blog reported about the Brandman hiring:
What special skills does Mr. Brandman bring to the Clerk's office? Hard to say. According to his official bio his work history over the past decade has been pretty, um, varied:  some political appointment jobs in Sacramento, followed by a brief stint with the useless OC Business Council in "workforce development" (including his own, presumably), and most lately employment in the Brandman family "environmental consulting" business. What any of this background has to do with the smooth operation of the County's top paper shuffler is unknown.

What is known is that last fall the County CEO instituted a strict "hard hiring freeze" policy across all County departments. Either Daly didn't get the message or perhaps he's just flipping the bird to the CEO and the Board of Supervisors. Daly is elected, of course, and may figure he'll do whatever he damn well pleases. Because he over-charges his customers for his services, Daly returns a surplus to the County's General Fund. And maybe this makes him feel he's above the belt-tightening endured by everybody else.
But that is not all!  Daly has also blown millions on temps and hiring relatives of his campaign contributors.  Here is more info about that, again from the FFFF blog:
As the County budget approval meeting approach we found even more government waste by election victor Tom Daly.  If you look at the previous three years you'll become aware of yet another way in which this inept "Manager of the Year" continues to waste the taxpayer's money. In the past three years, Tom Daly has doled out more that $1.4 million for "temporary help" and "extra-help." This is easily verifiable by looking at the County's Proposed Budget Book for 2009-2010.

We have previously reported that Tom Daly likes to give non-competitive "extra-help" jobs to his friends and the relatives of campaign donors. But in a time in which the County is laying off employees and forcing furloughs on other agencies, Tom Daly is getting away with budgetary murder. His budget is at the same levels they were when recording and revenues were at an all time high. Property recordings have declined to almost half of the all time mark in 2005, yet Daly seems to believe he is still entitled to hire his friends and relatives of campaign donors at a whopping cost of $1.4 million. This essentially means the County General Fund is being deprived $1.4 million over the past 3 years.
I also hear that Daly was offered FREE office space by the Cities of Buena Park and Fullerton – instead he opened a satellite office in a prime Downtown Fullerton building, costing $7,500 a month in rent!  He is spending a similar amount for a satellite office in Laguna.
And Daly spent over two million to acquire a building that has in fact never been used.  Click here for the gory details.  And check out the pictures above.  OC CEO Tom Mauk says this building was a good investment.  The pictures tell another story…
Daly is clearly a train wreck.  Voters would be far better off voting for Santa Ana Council Member Michele Martinez – a common sense Democrat who is progressive on social issues but fairly moderate on fiscal matters.
If you are a Democrat, remember that Daly punked the two Democrats who ran for the Anaheim City Council last year.  He supported instead Republican John Leos.  In the end they all lost and the Anaheim City Council is now run entirely by Republicans.  Blame Daly…