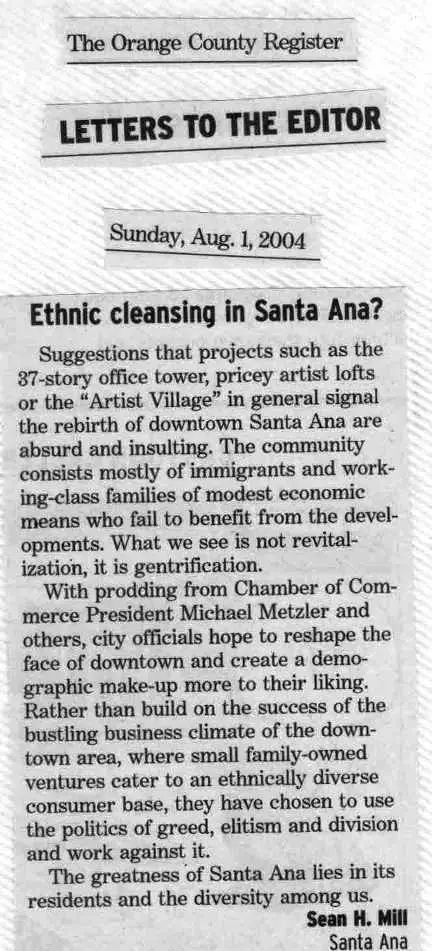 Did you know that the O.C. Register started using the term "Ethnic Cleansing" with regard to the gentrification of Downtown Santa Ana way back in 2004?
Santa Ana Planning Commissioner Sean Mill wrote a letter to the Register that they published on August 1, 2004.  I have reproduced the letter above.  The Register's letters editor came up with the headline of "Ethnic Cleansing in Santa Ana?"  Mill did NOT use that term in his letter!
Where was the outrage in 2004, from the Chase family, the faux liberals, and the ADL?
Mill was on the attack against crooked developers and former Santa Ana City Manager Dave Ream, long before Santa Ana Mayor Pro Tem Claudia Alvarez began to lead the charge against Chase and his cohorts.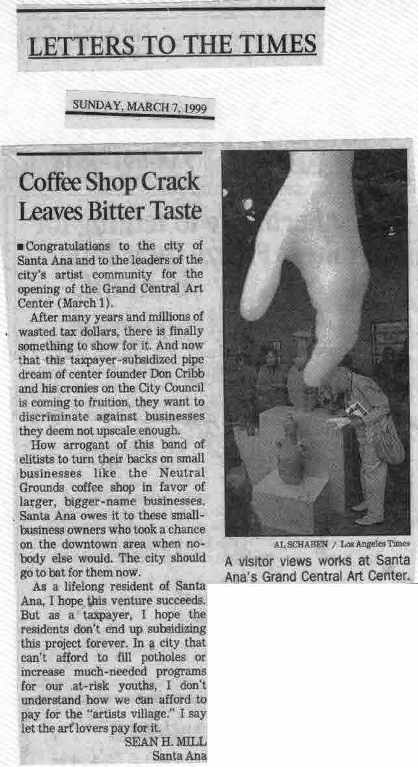 Mill also ripped Don Cribb in a letter to the L.A. Times, published on March 7, 1999, for attacking small business owners in the Downtown Santa Ana area, similar to what is happening today.  Cribb was on the Santa Ana Planning Commission back then (btw, does anyone know why a City of Santa Ana vehicle was parked in front of Cribb's house today?)
You see?  Things have only gone from bad to worse for these businessmen, who have just been trying to survive.  The Chase family would love for us all to keep focusing on what Alvarez had already apologized for so we will take off the ball while they continue their mission that the Register referred to as "ethnic cleansing" way back in 2004.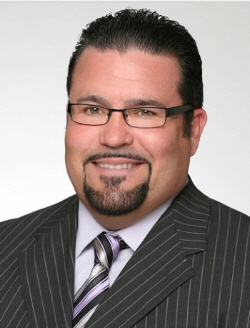 Kudos to Planning Commissioner Mill for fighting the good fight way back when the ADL and Dan Chmielewski didn't even know where Santa Ana was located!