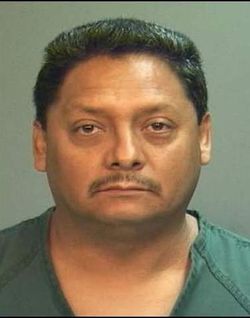 Contact: Cpl. Anthony Bertagna, Public Information Officer, Santa Ana Police Department, 714-245-8029, Cell: 714-709-2043
Susan Kang Schroeder, Chief of Staff, Orange County District Attorney, 714-347-8408, Cell: 714-292-2718
Farrah Emami, Spokesperson, Orange County District Attorney, 714-347-8405, Cell: 714-323-4486
Santa Ana Police Department & Orange County District Attorney Press Release
FOR IMMEDIATE RELEASE: September 1, 2011
Case # 11CM12385: NURSING ASSISTANT CHARGED WITH SEXUALLY TOUCHING THREE TEENAGE FEMALE ROP STUDENTS
*Law enforcement is seeking the public's help identifying potential additional victims
SANTA ANA – Law enforcement is seeking the public's help identifying potential additional victims of certified nursing assistant charged with sexually touching three of his teenage female Regional Occupational Program (ROP) students.
Alfredo Fernandez Gonzalez, 45, Orange, is charged with three misdemeanor counts of sexual battery and faces a sentence ranging from probation up to three years in state jail if convicted. The People will be requesting Gonzalez be held on $30,000 bail at his arraignment tomorrow, Friday, Sept. 2, 2011, at 10:00 a.m. in Department CJ-1, Central Jail. Santa Ana.
Gonzalez is a certified nursing assistant who trained student in an ROP nursing course at Park West Care and Rehabilitation Center at 2210 E. 1st Street in Santa Ana.
Between March 8, 2011, and May 4, 2011, Gonzalez is accused of inappropriately touching three female teenage students, ages 17 and 18 years old. He is accused of grooming the victims by hugging them and kissing them on the neck. He is accused of making comments about dating the victims and complimenting them for having attractive bodies.
Gonzalez is accused of grabbing and patting the victims' buttocks, putting his hands around their hips and pulling his hips to theirs, and pulling his body against theirs. He is accused of touching the victims' buttocks under the guise of demonstrating nursing procedures after explaining that the particular produce did not require a nurse to touch a patient in that way.
In May 2011, the victims went with their mothers to report the sexual touching to the Santa Ana Police Department, who investigated this case.
The defendant has also worked at St. Joseph Hospital in Orange. It is unknown at this time any other past places of employment for the defendant.
Anyone with additional information or who thinks they have been a victim is encouraged to contact Supervising District Attorney Investigator Carl Waddell at (714) 834-7538 or Santa Ana Police Detective Mike Judson at (714) 245-8378.
Deputy District Attorney Brad Schoenleben is prosecuting this case.
###