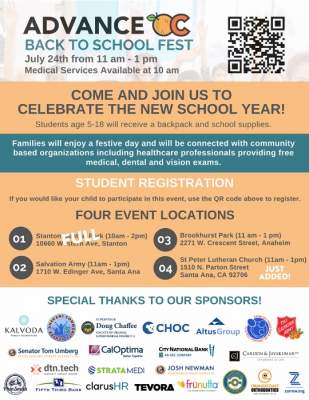 AdvanceOC is proud to host the 2021 Orange County Back to School Fest on July 24, 2021 from 10am – 1pm at four (4) locations: Stanton/Garden Grove, Santa Ana (Salvation Army at 1710 W. Edinger), Santa Ana (St. Peter Lutheran Church at 1510 N. Parton St.), and Fullerton/Anaheim.
This event will be an outdoor school supply drive and resource fair bringing the community together to support the underserved students in Orange County as they return to their classrooms this Fall. It is intended for families living in the following zip codes: 92675, 92673, 90680, 92641, 92644, 92645, 92833, 92832, 92831, 92801, 92802, 92804, 92701, 92703, 92704, 92705, 92706, 92707, 92843, 92683, 92627, and 92647.
Families will enjoy a festive day, and will be connected with community based organizations, including healthcare professionals providing medical screenings, vision testing with free prescription eyeglasses, and dental screenings. For medical screenings, arrive at 10am.
Together we can make a positive impact by providing youth in our local communities the support they need for a successful year!