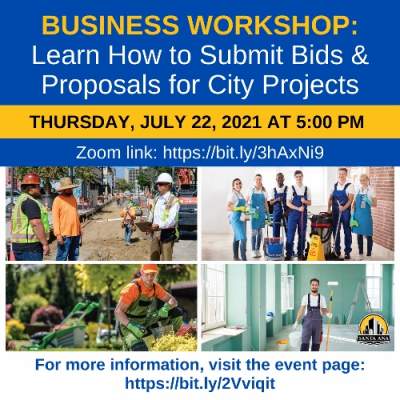 Santa Ana businesses are invited to an interactive Virtual Workshop with the City of Santa Ana to learn how easy it is to submit bids and proposals to the City. The Zoom virtual workshop is Thursday, July 22, 2021 at 5:00 p.m.
Please use the link below to join the virtual meeting via Zoom.
Or Dial-in at 1-669-900-6833 and Enter Webinar ID: 865 5305 5235. Spanish translation will be available.
We value your attendance at the workshop to learn how to submit bids and proposals for your company to be favored a contract for a City of Santa Ana project. For a list of City items to submit a bid or proposal, visit https://pbsystem.planetbids.com/portal/20137/portal-home. Should you have questions, please contact Public Works Agency Community Liaison Michelle Micallef at (714) 647-5091 or mmicallef@santa-ana.org.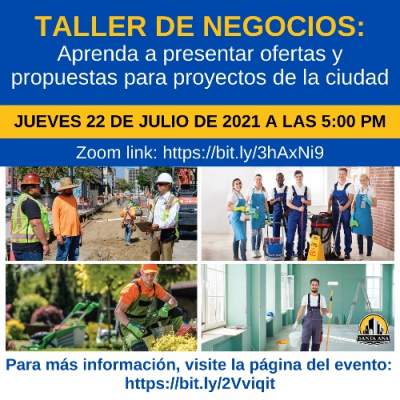 Translations: 
Taller de negocios: aprenda a presentar ofertas y propuestas