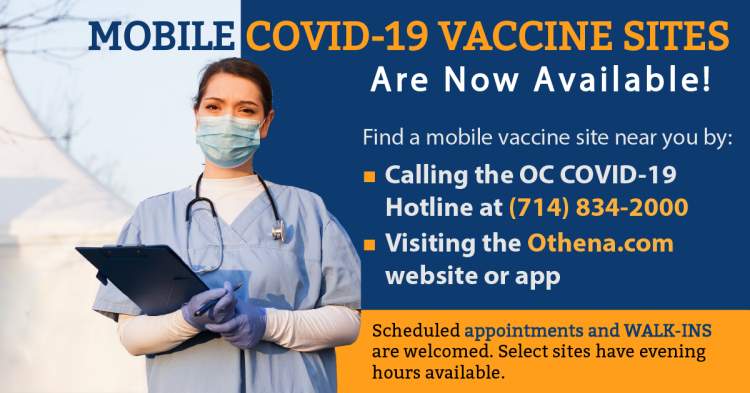 Public health officials at the OC Health Care Agency (HCA) are encouraging residents to take adequate safety precautions in the wake of increasing COVID-19 cases in the county. Currently, there are no plans to implement a new mask mandate in Orange County; however, those who are not fully vaccinated must continue wearing a mask indoors in accordance with guidelines from the California Department of Public Health (CDPH) and are strongly encouraged to get vaccinated as soon as possible.
"With the recent reopening of the State's economy, we had expected to see an increase in our COVID-19 cases and positivity rates," said Dr. Clayton Chau, County Health Officer and Agency Director of the HCA. "The average number of cases increased from 31 to over 100 per day over the last month, and our total testing positivity increased from 0.6% to 2.5%. Hospitalizations also jumped from 54 to 119 patients per day and ICU admissions increased from 13 to 31 patients per day. This means we need to continue being proactive about protecting our loved ones and neighbors and taking the necessary steps to help reduce the risk of infection throughout our county."
In line with guidance from the Centers for Disease Control and Prevention (CDC), the HCA is reminding individuals to avoid large crowds and poorly ventilated spaces, especially those who are not fully vaccinated or who live with others who are unvaccinated or have high health risk of contracting COVID-19. Over 90% of new positive cases are among people who are not fully vaccinated, and over 95% of those hospitalized with COVID-19 had not been fully vaccinated. According to the CDC, all COVID-19 vaccines currently authorized in the United States are effective against COVID-19, including serious outcomes like severe disease, hospitalization, and death.
Testing also remains a critical component of the County's strategy to reduce viral transmission. "Testing helps support early detection and prevent the spread of possible variants," said Dr. Margaret Bredehoft, Deputy Agency Director of HCA Public Health Services. "Self-collection, at-home COVID-19 test kits are available at no cost by visiting www.ochealthinfo.com/covidtest. If you are experiencing COVID-19 symptoms, please seek testing, regardless of your vaccination status."
To keep the community informed, the HCA will report Orange County COVID-19 case counts and testing figures daily, Monday through Friday, beginning July 19, 2021. Dr. Chau also encourages individuals who remain hesitant to receive the COVID-19 vaccine, to learn more about the COVID-19 vaccine through credible sources including the CDC, the CDPH, the Food and Drug Administration, the World Health Organization, and the American Academy of Pediatrics.