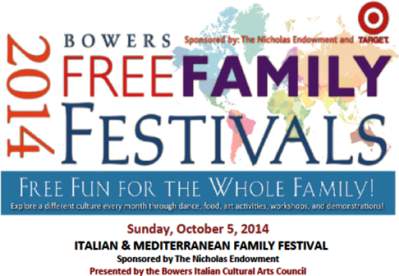 The Bowers Museum is hosting a free Italian & Mediterranean Family Festival at this Sunday, Oct. 5 from 11 am – 4 pm, at 2002 N. Main St., in Santa Ana.
This is a free event sponsored by The Nicholas Endowment and presented by the Bowers Italian Cultural Arts Council.
Schedule:
Norma Kershaw Auditorium
1:00 pm:
Franklin Haynes presents Marionette Magic – A showcase of Haynes' most popular puppets including Pinocchio.
Margaret and Cleo Key Courtyard
11 am – 4 pm:
Face painting, Spanish Fans and Venetian Carnavale art projects
Food sampling of Italian Gelato
12:00 pm:
The Bel Canto Singers of the Orange County School of the Arts, with Sydney Dardis, Jason Risdana and Daniel Sanchez with Lukas Swidzinski- Piano. Performing Italian folk songs and the music of Torelli, Mozart and more.
12:30 pm:
The Sicilian Band, featuring Tony Ciaramitaro, plays romantic ballads of Italy. Join in on the fun and dance to the music!
1:30 pm:
Tierra Flamenca Dance Troupe of Claudia de la Cruz, performs the fiery dances of Spain.
2 pm:
The Sicilian Band continues their enjoyable dance music.
Free admission to limited engagement exhibition: "Heavenly Horses: Two Thousand Years of Chinese and Japanese Equine Art" is offered on a first-come-first-served basis. Free admission is also included to the Bowers Museum permanent exhibitions including: Sacred Realms: Temple Murals by Shashi Dhoj Tulachan; Spirits and Headhunters: Art of the Pacific Islands; California Legacies: Missions and Ranchos; Vision of the Shaman, Song of the Priest; California: The Golden Years; Ancient Arts of China. KIDSEUM is CLOSED for renovations until December 7, 2014.
Founded in 1936, the Bowers Museum is one of California's finest and Orange County's largest museums. Situated in the heart of Orange County, the Bowers Museum enriches lives through the world's finest arts and cultures. The Bowers Museum is located at 2002 N. Main St. in Santa Ana, just one minute from the 5 freeway at the Main St. South exit, and just a few minutes from the 22, 55 and 57 freeways. For more information, visit www.bowers.org, email vpayan@bowers.org or call 714-567-3645.