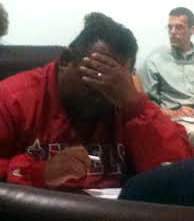 Picture courtesy of the OC Political Blog
It was a rough night for Santa Ana Mayor Pro Tem Sal Tinajero.  He blew off the Santa Ana Chamber of Commerce's candidates forum – but then he got caught playing hooky when he showed up on tonight's telecast of the Angel's playoff game in Anaheim.  In fact Tinajero showed up at least twice!
Now I know that Tinajero is a huge Angels fan, and it has been awhile since the boys in red made the playoffs but tonight's no show at the Chamber's candidates forum comes at a bad time for Tinajero.  He is not running much of a reelection campaign – he has no campaign website and I have seen no evidence of any precinct walking or any other campaign activities.  It just seems like he is going through the motions this year – even though he has a challenger in the form of businessman Mike Gonzalez, who is campaigning very hard for Ward 6.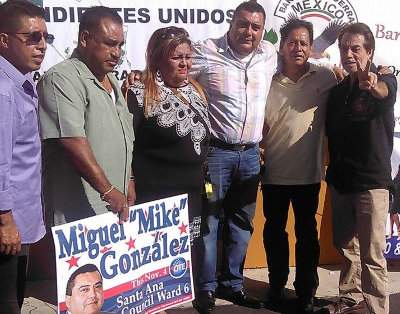 The worst part of this tale, for Tinajero, is that the Angels choked!  They lost tonight to the underdog, scrappy Kansas City Royals.  Draw your own conclusions from that outcome…