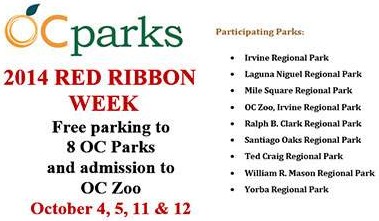 By: OC Supervisor Todd Spitzer
(Portions courtesy of OC Parks & OC Sheriff's Department)
OC Parks is proud to partner with the Orange County Sheriff's Department (OCSD) in the countywide Red Ribbon Week for the fourth year. OCSD will distribute 1,000,000 Red Ribbon wristbands to every school-aged child in public and private schools, as well as many businesses and government agencies throughout Orange County.
Since 1988, Orange County has been celebrating Red Ribbon Week, which is a national drug prevention effort. Red Ribbon Week is celebrated during the last week of October each year in schools and communities to increase awareness about alcohol, tobacco, and other drug prevention, as well as to kick-off a year of prevention that promotes drug-free lifestyles.
Each student wearing a red Drug Use is Life Abuse wristband is eligible to receive free weekend entrance for their whole family to eight OC Parks and free admission to the OC Zoo on October 4, 5, 11, and 12.