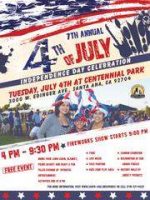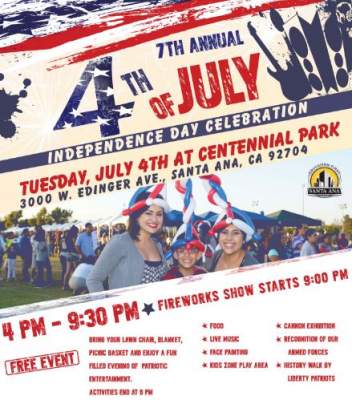 City of Santa Ana
Community: Take a Walk through America's History at the Annual Fourth of July Celebration / Celebración Anual del Cuatro de Julio
The City of Santa Ana's 7th Annual Fourth of July Celebration will be taking place on Tuesday, July 4, 2017 from 4:00 p.m. to 9:30 p.m. at Centennial Park. This annual event celebrates Independence Day with a festive patriotic program, tasty food, a History Walk, youth sports zone, kids play zone, face painting, children's opportunity drawing and a spectacular fireworks finale. The scheduled program will include live entertainment, recognition of our Armed Forces, and a field artillery demonstration of civil war cannons.
Hosted by a grassroots community committee, the History Walk is an educational, interactive display inviting guests to take a walk through America's rich history. Guests will have the opportunity to visit with Abraham Lincoln, George Washington, Benjamin Franklin and many other historical figures as they stop at each booth to hear of their personal stories of the American Revolution. Adults and children alike will enjoy learning about our nation's beginnings.
To end the festivities, a spectacular firework finale will be taking place at 9:00 p.m. Guests are encouraged to arrive early, bring a lawn chair, blanket, picnic basket and enjoy the fun-filled evening of patriotic entertainment and activities before the fireworks begin.
Centennial Park is located at 3000 West Edinger Avenue in Santa Ana. For more information on the Fourth of July Celebration, visit www.santa-ana.org/parks/upcomingevents or call the Special Events Office at (714) 571-4227.
######################################################
¡Dé un Paseo por la Historia de los Estados Unidos
en la 7ª Celebración Anual del Cuatro de Julio en la Ciudad de Santa Ana!
La Celebración del Cuatro de Julio se llevara a cabo por 7ª ocasión en la Ciudad de Santa Ana el martes, 4 de Julio, 2017 de 4:00 p.m. a 9:30 p.m. en el Parque Centennial. Este evento anual celebrara el Día de la Independencia de los Estados Unidos con un programa patriótico, comida sabrosa, Caminata Histórica, zona deportiva juvenil, zona de juegos para niños, pinta caritas, rifas para niños y un espectáculo de fuegos artificiales. El programa incluirá música en vivo, un reconocimiento a nuestras fuerzas armadas y una demostración de la artillería de cañones de la Guerra Civil.
La Caminata Histórica presentada por una organización comunitaria es una área educativa que invita la comunidad a tomar un paseo por la historia de los Estados Unidos. Adultos y niños tendrán la oportunidad de visitar con Abraham Lincoln, George Washington, Benjamin Franklin y otros personajes históricos para oír sobre sus historias personales de la Revolución Americana. Adultos y niños por igual disfrutaran al aprender sobre los comienzos de nuestra nación.
Para finalizar las festividades, un espectacular show de fuegos artificiales tendrá lugar a las 9:00 p.m. Se le recomienda al público llegar temprano, traer una silla, manta, cesta de picnic y disfrutar de las actividades y entretenimiento patriótico antes que comienzan los fuegos artificiales.
El Parque Centennial se encuentra en el 3000 West Edinger Avenue en Santa Ana. Para obtener más información sobre la celebración del Cuatro de Julio, visite www.santa-ana.org/parks/upcomingevents o llame a la Oficina de Eventos Especiales al (714) 571-4227.